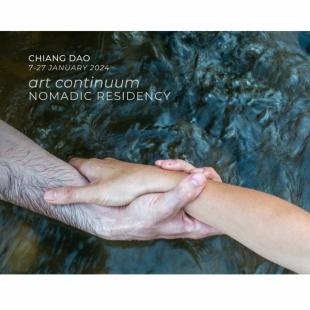 𝗔𝗿𝘁 𝗖𝗼𝗻𝘁𝗶𝗻𝘂𝘂𝗺 𝗡𝗼𝗺𝗮𝗱𝗶𝗰 𝗥𝗲𝘀𝗶𝗱𝗲𝗻𝗰𝘆 - 'Being Nature' 21 day multidisciplinary artistic laboratory about deep ecology, ecosomatics, embodied poetry, contact improvisation and performance.

7 - 27th January 2024
Chiang Dao, Thailand

art continuum nomadic residency is designed for international artistic exchange, development and creation, existing periodically in diverse locations. Focused on the fields of dance improvisation, performance, poetry and film. Containing laboratories, workshops and performative events.

The residency is a supportive and inspiring environment for emerging artists and artists searching for new perspectives, multidisciplinary experimentation and artistic development in collaboration. It supports the process of clarifying artistic vision and mastering its articulation. It gathers people of different backgrounds and nationalities, both amateur and professional.

The method is a framework for artistic development, ongoing research of making collaborative multidisciplinary space for artistic exchange, emphasizing listening, improvisation, inquiry and being with nature.

The theme of the residency is '𝗕𝗲𝗶𝗻𝗴 𝗡𝗮𝘁𝘂𝗿𝗲'
"𝘏𝘰𝘸 𝘤𝘢𝘯 𝘸𝘦 𝘥𝘦𝘦𝘱𝘦𝘯 𝘰𝘶𝘳 𝘤𝘰𝘯𝘯𝘦𝘤𝘵𝘪𝘰𝘯𝘴 𝘸𝘪𝘵𝘩 𝘰𝘶𝘳𝘴𝘦𝘭𝘷𝘦𝘴, 𝘰𝘵𝘩𝘦𝘳𝘴 𝘢𝘯𝘥 𝘵𝘩𝘦 𝘯𝘢𝘵𝘶𝘳𝘢𝘭 𝘸𝘰𝘳𝘭𝘥?"
An embodied inquiry into our interdependency, opening our senses to what is present, and making choices based on the larger context of our shared ecologies.

Inspired by the Being Nature project of Dolores Dewhurst Marks, encouraging people to discover their own way of connecting with deeper self and the natural world. Inspiring them to feel nature as part of their body, and from that embodied understanding move towards change, with acknowledgement of the current environmental situation. Offering space for exploration, collaboration, artistic expression and environmental activism.

𝗣𝗿𝗼𝗴𝗿𝗮𝗺:
The 21 day program will include laboratories for multidisciplinary experimentation based on collaborative listening and improvisation; space for inquiry, co-creation and sharing; contact/dance improvisation jams and performative events.

Throughout the program of the residency there will be an in-depth workshop with Dolores Dewhurst Marks. As well there will be other artists contributing to the program, sharing their research and art work.

Along with opportunities to discover and learn about the local ecosystem through workshops with local ecologists.

𝗟𝗼𝗰𝗮𝘁𝗶𝗼𝗻:
The residency takes place in Chiang Dao, a UNESCO biosphere reserve. The area carries an ancient Buddhistic heritage, including cave temples and forest monastery. The venue is located at the foothills of Doi Luang mountain, next to a gentle river, walking distance from natural hot springs.

𝗣𝗿𝗶𝗰𝗲 & 𝗔𝗽𝗽𝗹𝗶𝗰𝗮𝘁𝗶𝗼𝗻 will be announced soon.
There will be 10 partial and full scholarship opportunities for those who are unable to pay the low income price.
Direct your inquiries to: artcontinuumresidency@gmail.com

𝗙𝗼𝗼𝗱:
Nourishing Thai and fusion vegetarian meals for breakfast, lunch and dinner are included in the price.

𝗔𝗰𝗰𝗼𝗺𝗺𝗼𝗱𝗮𝘁𝗶𝗼𝗻:
There are 2 options for onsite accommodation:
Camping space (bring your own tent) - 200THB/night (~€5.5)
Bed in a shared dormitory - 250THB/night (~€7)
Both options have a shared kitchen and bathrooms
There are private bungalows for rent within walking distance.

More information about art continuum nomadic residency:
https://artcontinuum.space/
More information about being nature:
https://beingnature.space/

𝗢𝗿𝗴𝗮𝗻𝗶𝘀𝗲𝗿𝘀: Sasha Dodo, Dolores Dewhurst Marks, Fern Sripungwiwat
This event is organised in collaboration with 𝗧𝗼𝘄𝗮𝗿𝗱𝘀 - 𝗰𝗲𝗻𝘁𝗲𝗿 𝗳𝗼𝗿 𝘁𝗵𝗲 𝗽𝗿𝗮𝗰𝘁𝗶𝗰𝗲 𝗮𝗻𝗱 𝗿𝗲𝘀𝗲𝗮𝗿𝗰𝗵 𝗼𝗳 𝗖𝗼𝗻𝘁𝗮𝗰𝘁 𝗜𝗺𝗽𝗿𝗼𝘃𝗶𝘀𝗮𝘁𝗶𝗼𝗻 𝗶𝗻 𝗔𝘀𝗶𝗮 / 𝗧𝗵𝗮𝗶𝗹𝗮𝗻𝗱
Direct inquiries to: artcontinuumresidency@gmail.com