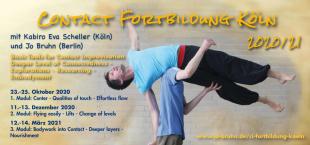 Contact Improvisation Fortbildung Köln 2020/21
Contact Improvisation Training Cologne 2020/21
​
mit Kabiro Eva Scheller (Köln) und Jo Bruhn (Berlin/Marseille)
with body contact with Kabiro Eva Scheller (Cologne) and Jo Bruhn (Berlin/Marseille)
​
Tools for Contact Improvisation -  Deeper Level of Connectedness - Explorations - Resourcing - Embodyment
​
In Köln / in Cologne, Germany
Die aktuellen Schutzmassnahmen werden eingehalten.
The actual protection policy is respected.
​Alle Infos unter https://www.jo-bruhn.de/ci-fortbildung-koeln
Klick hier um dich anzumelden. / Please click here to register.
Modul / module I   23.-25. 10. 2020
Modul / module II  11.-13. 12. 2020
Modul / module III 12.-14. 03. 2021
​Modul I
In diesem Modul wollen wir uns auf essentielle Prinzipien der Contact Improvisation konzentrieren. Gewicht geben und nehmen, mit unserem Zentrum alleine und im Kontakt mit anderen tanzen. Verschiedene Qualitäten der Berührung erforschen und beobachten (ZeugIn sein), den Kontaktpunkt über den eigenen oder andere Körper wandern lassen. Durch tieferes Verständnis unserer faszialen elastischen Strukturen in unserer Körperlandschaft können wir uns mehr mit unserer Bewegung verbinden und den Kontakt auf tieferen Ebenen spüren.
Auch wollen wir den Schwung nutzen, die Schwerkraft für uns arbeiten lassen um so in den Genuss eines Tanzes ohne Anstrengung zu kommen.
Module I
In this module we will focus on essential principles of Contact Improvisation. Giving and taking weight, dancing with our center by ourselves and in contact with others. Explore and observe (witness) different qualities of touch, let the point of contact wander over our own or other bodies. Through deeper understanding of our fascial elastic structures in our body landscape we can connect deeper with our movement and feel the contact on more levels.
We also want to use momentum, let gravity work for us to enjoy a dance without effort.
Modul II
Das Gewicht völlig auf andere Körper ausbreiten, den Boden verlieren, in verschiedenen Ebenen Fliegen. Mein Körper als Basis um anderen das Fliegen zu ermöglichen, Lifts in unterschiedlichsten Höhen. Die Reise durch verschiedene Ebenen, von bodennah nach oben und zurück. Ohne Anstrengung auf den Schultern anderer landen, Statik und Momentum nutzen um die muskuläre Kraft weniger zu benötigen.
Module II
Spread the weight completely on other bodies, lose the ground, fly in different levels. My body as a base to allow others to fly, lifts in different heights. The journey through different plateaus, from near the ground to the top and back. Landing without effort on the shoulders of others, using statics and momentum to use less muscular strength.
Modul III
Das "Tor" der Körperarbeit bringt uns in ein tieferes Loslassen, Wahrnehmen und in eine feinere Entspannung - auch im Aktivem Bewegen. Die Hingabe genießen, von anderen bewegt zu werden. Daraus eigene Impulse gewinnen, die mühelos immer mehr Bewegung kreieren und zu meinem Tanz führen. Ohne Anstrengung tiefer in Techniken und das Spüren der Contact Improvisation einsteigen, sich genährt fühlen vom Tanz, der Berührung, der Begegnung und dem Spiel mit der Schwerkraft.
Module III
The "gate" of bodywork brings us into a deeper state of letting go, awareness and finer relaxation - also in active movement. Enjoy the surrender to be moved by others. Gain your own impulses from this, which effortlessly create more and more movement and lead to my dance. Let's go deeper into techniques and the feeling of Contact Improvisation without effort, feel nourished by the dance, the touch, the encounter and the play with gravity.
​