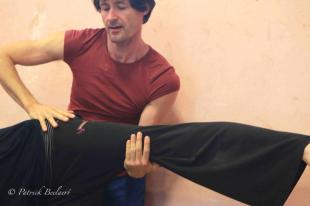 ***English version below***
Diese Zeit ist für Menschen, die sich wünschen, intensiv über einen längeren Zeitraum in einer Gruppe Contact Improvisation zu lernen und durch das gewachsene Vertrauen Qualität und Tiefe in der tänzerischen Entwicklung, sowie in der Begegnung im Tanz zu erfahren.
Wir möchten eine Gruppe versammeln, die sich auf Kontinuität einlässt, um gemeinsam zu trainieren, voneinander zu lernen und zu forschen. Dieser Kurs ist für diejenigen, die Contact Improvisation lieben und unbedingt weitergehen wollen.
Immer Dienstags 18:00-20:00 Uhr
Start 3.12.2019
Ende: 28.01.2020
(kein Kurs am 24.12. und 31.12.)
Unterrichtssprache: Deutsch, bei Bedarf mit englischer Übersetzung
Im Dezember wird Jo Bruhn unterrichten www.jo-bruhn.de
Im Januar wird Adrew Wass unterrichten https://wasswasswass.com/
Preis: 105€ (90€ bei Anmeldung bis 5.11.)
Anmeldung unter https://form.jotformeu.com/93032635816356
Fragen an mail@jo-bruhn.de
Wir freuen uns, mit euch zu tanzen!
Jo & Andrew
***English version***
This time is for people who wish to learn Contact Improvisation intensively over a longer period of time in a group and to experience quality and depth in the development of dance as well as in the encounter in dance through the grown trust.
We would like to assemble a group that is committed to continuity in order to train, learn and research together. This course is for those who love Contact Improvisation and want to go further.
Tuesdays 18:00-20:00
Start 3.12.2019
End: 28.01.2020
(no course at 24.12. and 31.12.)
Language of teaching: German, with English translation if needed
In December Jo Bruhn will teach www.jo-bruhn.de/welcome
In January Adrew Wass will teach https://wasswasswass.com/
Price: 105€ (90€ by registration until 5.11.)
Registration: https://form.jotformeu.com/93033419309354
Questions: mail@jo-bruhn.de
We are looking forward to dancing with you!
Jo & Andrew