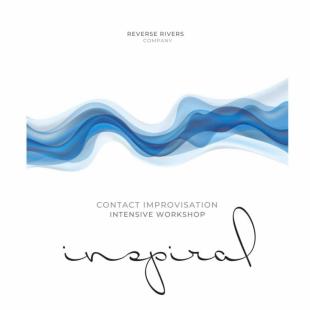 𝗜𝗡𝗦𝗣𝗜𝗥𝗔𝗟 - 21 day Contact Improvisation Intensive workshop
with 𝗦𝗮𝘀𝗵𝗮 𝗗𝗼𝗱𝗼 and 𝗗𝗼𝗹𝗼𝗿𝗲𝘀 𝗗𝗲𝘄𝗵𝘂𝗿𝘀𝘁-𝗠𝗮𝗿𝗸𝘀
3 - 23 December, 2023
Chiang Dao, Thailand

𝗧𝗵𝗶𝘀 𝘄𝗼𝗿𝗸𝘀𝗵𝗼𝗽 𝗶𝘀 𝗱𝗲𝘀𝗶𝗴𝗻𝗲𝗱 𝘁𝗼 𝗽𝗿𝗲𝗽𝗮𝗿𝗲 𝗯𝗼𝗱𝘆-𝗺𝗶𝗻𝗱 𝗳𝗼𝗿 𝗰𝗼𝗻𝘁𝗮𝗰𝘁 𝗶𝗺𝗽𝗿𝗼𝘃𝗶𝘀𝗮𝘁𝗶𝗼𝗻; 𝘁𝗼 𝗯𝗿𝗶𝗻𝗴 𝗲𝗺𝗯𝗼𝗱𝗶𝗲𝗱 𝘂𝗻𝗱𝗲𝗿𝘀𝘁𝗮𝗻𝗱𝗶𝗻𝗴 𝗼𝗳 𝘁𝗵𝗲 𝗱𝗮𝗻𝗰𝗲 𝗳𝗼𝗿𝗺, 𝗶𝘁𝘀 𝗳𝘂𝗻𝗱𝗮𝗺𝗲𝗻𝘁𝗮𝗹 𝗽𝗿𝗼𝗽𝗼𝘀𝗶𝘁𝗶𝗼𝗻𝘀 𝗮𝗻𝗱 𝗽𝗿𝗶𝗻𝗰𝗶𝗽𝗹𝗲𝘀, 𝗮𝗻𝗱 𝗼𝗽𝗲𝗻 𝗽𝗿𝗼𝘀𝗽𝗲𝗰𝘁𝘀 𝗼f 𝗶𝘁𝘀 current and 𝗽𝗼𝘁𝗲𝗻𝘁𝗶𝗮𝗹 𝗱𝗲𝘃𝗲𝗹𝗼𝗽𝗺𝗲𝗻𝘁.

Contact Improvisation is a 𝑚𝑢𝑙𝑡𝑖𝑝𝑙𝑒𝑥 practice; 𝑐𝑜𝑛𝑠𝑖𝑠𝑡𝑖𝑛𝑔 𝑜𝑓 𝑚𝑎𝑛𝑦 𝑒𝑙𝑒𝑚𝑒𝑛𝑡𝑠 𝑖𝑛 𝑎 𝑐𝑜𝑚𝑝𝑙𝑒𝑥 𝑟𝑒𝑙𝑎𝑡𝑖𝑜𝑛𝑠ℎ𝑖𝑝. It requires preparation and understanding of its origins and development. Inspiral workshop embraces its current state, not only as a research-based movement form, but also as a phenomenon impacting, contributing and transforming artistic, socio-political, therapeutic, and spiritual fields.

The format of the workshop and it's duration offers 𝗶𝗻-𝗱𝗲𝗽𝘁𝗵 𝘀𝘁𝘂𝗱𝘆, 𝘀𝗽𝗮𝗰𝗲 𝗳𝗼𝗿 𝗽𝗿𝗮𝗰𝘁𝗶𝗰𝗲 𝗮𝗻𝗱 𝗽𝗿𝗼𝘃𝗶𝗱𝗲𝘀 𝗰𝗼𝗻𝗱𝗶𝘁𝗶𝗼𝗻𝘀 𝗳𝗼𝗿 𝗶𝗻𝘁𝗲𝗴𝗿𝗮𝘁𝗶𝗼𝗻.

The program contains: a set of solo practices for preparing and tuning body-mind for contact improvisation / retrospectives / study and practice of falling and rolling / grounding through sensing gravity / principles of CI with emphasis on 𝗰𝗼𝗻𝘁𝗶𝗻𝘂𝗶𝘁𝘆 𝗼𝗳 𝗮𝘁𝘁𝗲𝗻𝘁𝗶𝗼𝗻, 𝗺𝘂𝘁𝘂𝗮𝗹𝗹𝘆 𝗰𝗼𝗹𝗹𝗮𝗯𝗼𝗿𝗮𝘁𝗶𝘃𝗲 𝗮𝘁𝘁𝗶𝘁𝘂𝗱𝗲, 𝗲𝗺𝗯𝗼𝗱𝗶𝗲𝗱 𝗶𝗻𝗾𝘂𝗶𝗿𝘆 𝗮𝗻𝗱 𝘀𝗽𝗮𝘁𝗶𝗮𝗹 𝗮𝘄𝗮𝗿𝗲𝗻𝗲𝘀𝘀 / experiential anatomy with an emphasis on efficiency / spherical and multidirectional orientation / whirling meditation and intentional disorientation / practicing in ensemble / witnessing and writing.

Referencing materials from 𝗖𝗼𝗻𝘁𝗮𝗰𝘁 𝗤𝘂𝗮𝗿𝘁𝗲𝗿𝗹𝘆 𝗝𝗼𝘂𝗿𝗻𝗮𝗹, 𝗦𝗵𝗮𝗿𝗶𝗻𝗴 𝘁𝗵𝗲 𝗗𝗮𝗻𝗰𝗲 𝗯𝘆 𝗖𝘆𝗻𝘁𝗵𝗶𝗮 𝗡𝗼𝘃𝗮𝗰𝗸, 𝗖𝗮𝘂𝗴𝗵𝘁 𝗙𝗮𝗹𝗹𝗶𝗻𝗴 𝗯𝘆 𝗡𝗮𝗻𝗰𝘆 𝗦𝘁𝗮𝗿𝗸-𝗦𝗺𝗶𝘁𝗵, 𝗠𝗮𝘁𝗲𝗿𝗶𝗮𝗹 𝗳𝗼𝗿 𝘁𝗵𝗲 𝗦𝗽𝗶𝗻𝗲 𝗯𝘆 𝗦𝘁𝗲𝘃𝗲 𝗣𝗮𝘅𝘁𝗼𝗻, and other CI sources, including CI documentaries.
Course material will also include additional reading and viewing assignments. There will be opportunities for self-study laboratories.
At the end of the description you will find definitions of Contact Improvisation that serve as the identity of this workshop.

The intensity of the workshop comes from its continuation. It will be helpful to approach it as 𝑝𝑖𝑙𝑔𝑟𝑖𝑚𝑎𝑔𝑒; tuning to 𝗺𝗼𝘃𝗶𝗻𝗴 𝘁𝗵𝗿𝗼𝘂𝗴𝗵 occurring challenging circumstances, which are 𝗶𝗻𝘀𝗲𝗽𝗮𝗿𝗮𝗯𝗹𝗲 𝗮𝗻𝗱 𝗽𝗼𝘁𝗲𝗻𝘁𝗶𝗮𝗹𝗹𝘆 𝗶𝗻𝘀𝗶𝗴𝗵𝘁𝗳𝘂𝗹 part of the process.

The nature of the material 𝗶𝗻𝗰𝗹𝘂𝗱𝗲𝘀 𝗿𝗶𝘀𝗸 𝘁𝗮𝗸𝗶𝗻𝗴 𝗮𝗻𝗱 𝗲𝘅𝗽𝗲𝗿𝗶𝗺𝗲𝗻𝘁𝗮𝘁𝗶𝗼𝗻, 𝗲𝗻𝘁𝗲𝗿𝗶𝗻𝗴 𝘂𝗻𝗸𝗻𝗼𝘄𝗻 𝘁𝗲𝗿𝗿𝗶𝘁𝗼𝗿𝗶𝗲𝘀 𝘁𝗵𝗮𝘁 𝗿𝗲𝗾𝘂𝗶𝗿𝗲 𝗲𝘅𝘁𝗿𝗮 𝗮𝘁𝘁𝗲𝗻𝘁𝗶𝗼𝗻 𝗳𝗼𝗿 𝗼𝘂𝗿𝘀𝗲𝗹𝘃𝗲𝘀, 𝗼𝘂𝗿 𝗽𝗮𝗿𝘁𝗻𝗲𝗿𝘀, 𝗮𝗻𝗱 𝘁𝗵𝗲 𝗴𝗿𝗼𝘂𝗽 𝗽𝗿𝗼𝗰𝗲𝘀𝘀.

As preparation for the workshop it is 𝗻𝗲𝗰𝗲𝘀𝘀𝗮𝗿𝘆 to practice 𝗠𝗮𝘁𝗲𝗿𝗶𝗮𝗹 𝗳𝗼𝗿 𝘁𝗵𝗲 𝗦𝗽𝗶𝗻𝗲 𝗯𝘆 𝗦𝘁𝗲𝘃𝗲 𝗣𝗮𝘅𝘁𝗼𝗻. It is accessible via an online study platform:
https://www.materialforthespine.com

Full commitment and punctual attendance are required for each session. 𝗡𝗼 𝗽𝗮𝗿𝘁𝗶𝗮𝗹 𝗽𝗮𝗿𝘁𝗶𝗰𝗶𝗽𝗮𝘁𝗶𝗼𝗻. Group size limited to 35 participants.

The approximate schedule will be:
4-6 hours teaching hours per day. Additional proposed focus labs and jams, as well as open labs and open jams. 1-2 days off per week, during which the studio will be available.

Inspiral is an annual event, part of the program of 𝗧𝗢𝗪𝗔𝗥𝗗𝗦 - 𝗮 𝗰𝗲𝗻𝘁𝗿𝗲 𝗳𝗼𝗿 𝘁𝗵𝗲 𝗽𝗿𝗮𝗰𝘁𝗶𝗰𝗲 𝗮𝗻𝗱 𝗿𝗲𝘀𝗲𝗮𝗿𝗰𝗵 𝗼𝗳 𝗖𝗼𝗻𝘁𝗮𝗰𝘁 𝗜𝗺𝗽𝗿𝗼𝘃𝗶𝘀𝗮𝘁𝗶𝗼𝗻 𝗶𝗻 𝗧𝗵𝗮𝗶𝗹𝗮𝗻𝗱 / 𝗔𝘀𝗶𝗮.
In addition to the intensive there will be a further 8 days 𝗜𝗡𝗦𝗣𝗜𝗥𝗔𝗟 - 𝗟𝗔𝗕𝗢𝗥𝗔𝗧𝗢𝗥𝗬 / 𝗖𝗥𝗘𝗔𝗧𝗜𝗩𝗘 𝗪𝗘𝗘𝗞 - space for harvesting, integration and co-creation, 25 December - 1 January. This week is open for those who have attended previous Inspiral workshops. It will carry an additional celebratory quality, because of its placement over Christmas and New Year. More information & registration coming soon.

VENUE
The program will take place at the Youth Camp in Chiang Dao.
The open-air dance space is situated right next to a big green field and a small stream and the venue is a 10-minute walk from a natural hot spring by the river.
Chiang Dao is 1.5 hours North of Chiang Mai, it can be reached by public bus, taxi or with your own vehicle.

PRICE
(includes 2 meals and a light breakfast per day for 21 days, accommodation not included)
30,000THB/€800 Low income price - 12 places available.
40,000THB/€1060 Regular price
45,000THB/€1020 Supportive price - 5000 THB of the ticket sale goes to the scholarship program.
Part of your contribution goes towards supporting environmental projects in the local community.

FOOD
Nourishing Thai and fusion vegetarian meals are included in the price.

ACCOMMODATION
Accommodation is not included in the price.
There are 2 options for onsite accommodation:
Camping space (bring your own tent) - 200THB/night (~€5.5)
Bed in a shared dormitory - 250THB/night (~€7)
Both options have a shared kitchen and bathrooms
There are private bungalows for rent within walking distance.
More information coming soon.

𝗔𝗽𝗽𝗹𝗶𝗰𝗮𝘁𝗶𝗼𝗻 𝗳𝗼𝗿𝗺:
https://forms.gle/9TksGRZ7xqyAuWF89
We are curious to hear about your motivation and current interest/research in the practice. It's important you are attuned to the proposition and its requirements; that you are ready to go through this 21-day process.
Places are limited, each application will be reviewed and if accepted you will receive a confirmation by 1st September.

𝗦𝗰𝗵𝗼𝗹𝗮𝗿𝘀𝗵𝗶𝗽 𝗮𝗽𝗽𝗹𝗶𝗰𝗮𝘁𝗶𝗼𝗻:
https://forms.gle/myqABpyYXmC2XB3w6
There will be 10 scholarship opportunities for dedicated emerging practitioners/artists who are unable to pay the low income price.
Direct your inquiries to: towards.contact@gmail.com

𝗔𝗯𝗼𝘂𝘁 𝗦𝗮𝘀𝗵𝗮 & 𝗗𝗼𝗹𝗼𝗿𝗲𝘀:
Sasha Dodo and Dolores Dewhurst-Marks are multidisciplinary artists working with dance improvisation, performance, poetry and film. Directing and curating: 𝗮𝗿𝘁 𝗰𝗼𝗻𝘁𝗶𝗻𝘂𝘂𝗺 𝗻𝗼𝗺𝗮𝗱𝗶𝗰 𝗿𝗲𝘀𝗶𝗱𝗲𝗻𝗰𝘆, designed for international artistic exchange, development and creation;
𝗿𝗲𝘃𝗲𝗿𝘀𝗲 𝗿𝗶𝘃𝗲𝗿𝘀 𝗰𝗼𝗺𝗽𝗮𝗻𝘆, a vehicle for their artistic work, interweaving movement, visual and poetry;
𝗯𝗲𝗶𝗻𝗴 𝗻𝗮𝘁𝘂𝗿𝗲 𝗽𝗿𝗼𝗷𝗲𝗰𝘁, about connection with deeper self and the natural world, embodied poetry and dance with nature;
t𝗼𝘄𝗮𝗿𝗱𝘀 - centre for the practice and research of contact improvisation in Thailand / Asia.

As well they are co-organizers of
Thailand 𝗖𝗼𝗻𝘁𝗮𝗰𝘁 𝗜𝗺𝗽𝗿𝗼𝘃𝗶𝘀𝗮𝘁𝗶𝗼𝗻 𝗖𝗼𝗻𝗳𝗲𝗿𝗲𝗻𝗰𝗲 2020-2021,
𝗧𝗼𝘄𝗮𝗿𝗱𝘀 CI50/51 𝗖𝗼𝗻𝘁𝗮𝗰𝘁 𝗜𝗺𝗽𝗿𝗼𝘃𝗶𝘀𝗮𝘁𝗶𝗼𝗻 𝗖𝗼𝗻𝗳𝗲𝗿𝗲𝗻𝗰𝗲 2022-2023,
𝗕𝗲𝗶𝗻𝗴 𝗡𝗮𝘁𝘂𝗿𝗲 𝗚𝗮𝘁𝗵𝗲𝗿𝗶𝗻𝗴 2022, 𝗕𝗲𝗶𝗻𝗴 𝗡𝗮𝘁𝘂𝗿𝗲 𝗔𝗿𝘁 𝗥𝗲𝘀𝗶𝗱𝗲𝗻𝗰𝘆 2024,
𝗧𝗼𝘄𝗮𝗿𝗱𝘀 3 week 𝗖𝗜 𝗙𝗼𝗰𝘂𝘀𝗲𝗱 𝗝𝗮𝗺 2023-2024, and 𝗤𝘂𝗶𝗲𝘁 𝗮𝗻𝗱 𝗪𝗶𝗹𝗱 𝗝𝗮𝗺 2019-2024.

In their work with CI, they are interested in encompassing and connecting practitioners to the past, present, and potential future of the form. As well as continuing to share inspirations from their own field of research about deeper integrity of action; the state in which attention, imagination and intuition are embodied in the process of improvisation and self is being expressed as an omnidirectional, collaborative and creative space of expanded awareness.
They are interested in embodiment of the principles in other areas of their work and in everyday life.

In recent years they have been experimenting with placing the practice in the context of a natural environment.

In their organizational and artistic work, Contact Improvisation often serves as the under-lining connective tissue and source of inspiration, and it is one the central mediums for artistic expression.
Their work with CI is largely influenced by the work of such artists: Steve Paxton, Nancy Stark Smith, Kirstie Simson, Nita Little, Ruslan Baranov, Lalitaraja Joachim Chandler, Ekaterina Basalaeva, Ray Chung, Ming-Shen Ku, Anjelika Doniy, Bonnie Bainbridge Cohen and Anna Halprin.

They offer an annual in-depth training of Contact Improvisation, Inspiral - month-long intensive. Furthermore, they offer Composing While Improvising - Dance Improvisation, poetry, performance workshop. As well CI is one of the mediums in the Being Nature Project.

Visited countries: China, Thailand, Vietnam, Turkey, Italy, Spain, Germany, Romania, Bulgaria, Ukraine, Moldova, Sweden.
Currently based in Thailand.

As organizers of CI projects separately and together, they have collaborated with Kirstie Simson, Ming-Shen Ku, Anjelica Doniy, Ekaterina Baselaeva, Yasukichi Suzuki, Bari Kim, Mirva Makinen, Katya Mustonen, Bruno Caverna, Vega Luukkonen, Ruslan Baranov, Alexandra Soshnikova & Sergey Golovnea, Zuzanna Bukowski and many others.

They are currently working on creating 𝘁𝗼𝘄𝗮𝗿𝗱𝘀 𝗳𝗼𝘂𝗻𝗱𝗮𝘁𝗶𝗼𝗻, with the objective of supporting accessibility of their projects, community and artistic development. They are in the process of creating a permanent art residency, which will accommodate their projects and serve as well as a performative platform. They envision a sustainable, inspiring and collaborative environment for personal and collective insight, growth and transformation.

Their artistic work interweaves movement, visual and text, with an emphasis on poeticality that reveals contemplative vision, sense of interdependency and underlying presence of the unknown in everyday life.

They are authors of 𝘁𝗵𝗲 𝗹𝗼𝘀𝘁 𝗽𝗹𝗮𝗰𝗲 book of poetry.
More information:
http://reverserivers.com/
https://artcontinuum.space
https://towards.contact
https://www.beingnature.space
/
𝗗𝗲𝗳𝗶𝗻𝗶𝘁𝗶𝗼𝗻𝘀 𝗼𝗳 𝗖𝗢𝗡𝗧𝗔𝗖𝗧 𝗜𝗠𝗣𝗥𝗢𝗩𝗜𝗦𝗔𝗧𝗜𝗢𝗡:
There are many ways of defining CI. Here are three definitions made by 𝗦𝘁𝗲𝘃𝗲 𝗣𝗮𝘅𝘁𝗼𝗻 (the originator of CI):
"𝗖𝗼𝗻𝘁𝗮𝗰𝘁 𝗜𝗺𝗽𝗿𝗼𝘃𝗶𝘀𝗮𝘁𝗶𝗼𝗻 𝗶𝘀 𝗮𝗻 𝗲𝘃𝗼𝗹𝘃𝗶𝗻𝗴 𝘀𝘆𝘀𝘁𝗲𝗺 𝗼𝗳 𝗺𝗼𝘃𝗲𝗺𝗲𝗻𝘁 𝗶𝗻𝗶𝘁𝗶𝗮𝘁𝗲𝗱 𝗶𝗻 𝟭𝟵𝟳𝟮 𝗯𝘆 𝗔𝗺𝗲𝗿𝗶𝗰𝗮𝗻 𝗰𝗵𝗼𝗿𝗲𝗼𝗴𝗿𝗮𝗽𝗵𝗲𝗿 𝗦𝘁𝗲𝘃𝗲 𝗣𝗮𝘅𝘁𝗼𝗻. 𝗧𝗵𝗲 𝗶𝗺𝗽𝗿𝗼𝘃𝗶𝘀𝗲𝗱 𝗱𝗮𝗻𝗰𝗲 𝗳𝗼𝗿𝗺 𝗶𝘀 𝗯𝗮𝘀𝗲𝗱 𝗼𝗻 𝘁𝗵𝗲 𝗰𝗼𝗺𝗺𝘂𝗻𝗶𝗰𝗮𝘁𝗶𝗼𝗻 𝗯𝗲𝘁𝘄𝗲𝗲𝗻 𝘁𝘄𝗼 𝗺𝗼𝘃𝗶𝗻𝗴 𝗯𝗼𝗱𝗶𝗲𝘀 𝘁𝗵𝗮𝘁 𝗮𝗿𝗲 𝗶𝗻 𝗽𝗵𝘆𝘀𝗶𝗰𝗮𝗹 𝗰𝗼𝗻𝘁𝗮𝗰𝘁 𝗮𝗻𝗱 𝘁𝗵𝗲𝗶𝗿 𝗰𝗼𝗺𝗯𝗶𝗻𝗲𝗱 𝗿𝗲𝗹𝗮𝘁𝗶𝗼𝗻𝘀𝗵𝗶𝗽 𝘁𝗼 𝘁𝗵𝗲 𝗽𝗵𝘆𝘀𝗶𝗰𝗮𝗹 𝗹𝗮𝘄𝘀 𝘁𝗵𝗮𝘁 𝗴𝗼𝘃𝗲𝗿𝗻 𝘁𝗵𝗲𝗶𝗿 𝗺𝗼𝘁𝗶𝗼𝗻 —𝗴𝗿𝗮𝘃𝗶𝘁𝘆, 𝗺𝗼𝗺𝗲𝗻𝘁𝘂𝗺, 𝗶𝗻𝗲𝗿𝘁𝗶𝗮. 𝗧𝗵𝗲 𝗯𝗼𝗱𝘆, 𝗶𝗻 𝗼𝗿𝗱𝗲𝗿 𝘁𝗼 𝗼𝗽𝗲𝗻 𝘁𝗼 𝘁𝗵𝗲𝘀𝗲 𝘀𝗲𝗻𝘀𝗮𝘁𝗶𝗼𝗻𝘀, 𝗹𝗲𝗮𝗿𝗻𝘀 𝘁𝗼 𝗿𝗲𝗹𝗲𝗮𝘀𝗲 𝗲𝘅𝗰𝗲𝘀𝘀 𝗺𝘂𝘀𝗰𝘂𝗹𝗮𝗿 𝘁𝗲𝗻𝘀𝗶𝗼𝗻 𝗮𝗻𝗱 𝗮𝗯𝗮𝗻𝗱𝗼𝗻 𝗮 𝗰𝗲𝗿𝘁𝗮𝗶𝗻 𝗾𝘂𝗮𝗹𝗶𝘁𝘆 𝗼𝗳 𝘄𝗶𝗹𝗹𝗳𝘂𝗹𝗻𝗲𝘀𝘀 𝘁𝗼 𝗲𝘅𝗽𝗲𝗿𝗶𝗲𝗻𝗰𝗲 𝘁𝗵𝗲 𝗻𝗮𝘁𝘂𝗿𝗮𝗹 𝗳𝗹𝗼𝘄 𝗼𝗳 𝗺𝗼𝘃𝗲𝗺𝗲𝗻𝘁. 𝗣𝗿𝗮𝗰𝘁𝗶𝗰𝗲 𝗶𝗻𝗰𝗹𝘂𝗱𝗲𝘀 𝗿𝗼𝗹𝗹𝗶𝗻𝗴, 𝗳𝗮𝗹𝗹𝗶𝗻𝗴, 𝗯𝗲𝗶𝗻𝗴 𝘂𝗽𝘀𝗶𝗱𝗲 𝗱𝗼𝘄𝗻, 𝗳𝗼𝗹𝗹𝗼𝘄𝗶𝗻𝗴 𝗮 𝗽𝗵𝘆𝘀𝗶𝗰𝗮𝗹 𝗽𝗼𝗶𝗻𝘁 𝗼𝗳 𝗰𝗼𝗻𝘁𝗮𝗰𝘁, 𝘀𝘂𝗽𝗽𝗼𝗿𝘁𝗶𝗻𝗴 𝗮𝗻𝗱 𝗴𝗶𝘃𝗶𝗻𝗴 𝘄𝗲𝗶𝗴𝗵𝘁 𝘁𝗼 𝗮 𝗽𝗮𝗿𝘁𝗻𝗲𝗿.

𝗖𝗼𝗻𝘁𝗮𝗰𝘁 𝗶𝗺𝗽𝗿𝗼𝘃𝗶𝘀𝗮𝘁𝗶𝗼𝗻𝘀 𝗮𝗿𝗲 𝘀𝗽𝗼𝗻𝘁𝗮𝗻𝗲𝗼𝘂𝘀 𝗽𝗵𝘆𝘀𝗶𝗰𝗮𝗹 𝗱𝗶𝗮𝗹𝗼𝗴𝘂𝗲𝘀 𝘁𝗵𝗮𝘁 𝗿𝗮𝗻𝗴𝗲 𝗳𝗿𝗼𝗺 𝘀𝘁𝗶𝗹𝗹𝗻𝗲𝘀𝘀 𝘁𝗼 𝗵𝗶𝗴𝗵𝗹𝘆 𝗲𝗻𝗲𝗿𝗴𝗲𝘁𝗶𝗰 𝗲𝘅𝗰𝗵𝗮𝗻𝗴𝗲𝘀. 𝗔𝗹𝗲𝗿𝘁𝗻𝗲𝘀𝘀 𝗶𝘀 𝗱𝗲𝘃𝗲𝗹𝗼𝗽𝗲𝗱 𝗶𝗻 𝗼𝗿𝗱𝗲𝗿 𝘁𝗼 𝘄𝗼𝗿𝗸 𝗶𝗻 𝗮𝗻 𝗲𝗻𝗲𝗿𝗴𝗲𝘁𝗶𝗰 𝘀𝘁𝗮𝘁𝗲 𝗼𝗳 𝗽𝗵𝘆𝘀𝗶𝗰𝗮𝗹 𝗱𝗶𝘀𝗼𝗿𝗶𝗲𝗻𝘁𝗮𝘁𝗶𝗼𝗻, 𝘁𝗿𝘂𝘀𝘁𝗶𝗻𝗴 𝗶𝗻 𝗼𝗻𝗲'𝘀 𝗯𝗮𝘀𝗶𝗰 𝘀𝘂𝗿𝘃𝗶𝘃𝗮𝗹 𝗶𝗻𝘀𝘁𝗶𝗻𝗰𝘁𝘀. 𝗜𝘁 𝗶𝘀 𝗮 𝗳𝗿𝗲𝗲 𝗽𝗹𝗮𝘆 𝘄𝗶𝘁𝗵 𝗯𝗮𝗹𝗮𝗻𝗰𝗲, 𝘀𝗲𝗹𝗳-𝗰𝗼𝗿𝗿𝗲𝗰𝘁𝗶𝗻𝗴 𝘁𝗵𝗲 𝘄𝗿𝗼𝗻𝗴 𝗺𝗼𝘃𝗲𝘀 𝗮𝗻𝗱 𝗿𝗲𝗶𝗻𝗳𝗼𝗿𝗰𝗶𝗻𝗴 𝘁𝗵𝗲 𝗿𝗶𝗴𝗵𝘁 𝗼𝗻𝗲𝘀, 𝗯𝗿𝗶𝗻𝗴𝗶𝗻𝗴 𝗳𝗼𝗿𝘁𝗵 𝗮 𝗽𝗵𝘆𝘀𝗶𝗰𝗮𝗹/𝗲𝗺𝗼𝘁𝗶𝗼𝗻𝗮𝗹 𝘁𝗿𝘂𝘁𝗵 𝗮𝗯𝗼𝘂𝘁 𝗮 𝘀𝗵𝗮𝗿𝗲𝗱 𝗺𝗼𝗺𝗲𝗻𝘁 𝗼𝗳 𝗺𝗼𝘃𝗲𝗺𝗲𝗻𝘁 𝘁𝗵𝗮𝘁 𝗹𝗲𝗮𝘃𝗲𝘀 𝘁𝗵𝗲 𝗽𝗮𝗿𝘁𝗶𝗰𝗶𝗽𝗮𝗻𝘁𝘀 𝗶𝗻𝗳𝗼𝗿𝗺𝗲𝗱, 𝗰𝗲𝗻𝘁𝗲𝗿𝗲𝗱, 𝗮𝗻𝗱 𝗲𝗻𝗹𝗶𝘃𝗲𝗻𝗲𝗱."

"𝗧𝗵𝗲 𝗲𝘅𝗶𝗴𝗲𝗻𝗰𝘆 𝗼𝗳 𝘁𝗵𝗲 𝗳𝗼𝗿𝗺 𝗱𝗶𝗰𝘁𝗮𝘁𝗲𝘀 𝗮 𝗺𝗼𝗱𝗲 𝗼𝗳 𝗺𝗼𝘃𝗲𝗺𝗲𝗻𝘁 𝘄𝗵𝗶𝗰𝗵 𝗶𝘀 𝗿𝗲𝗹𝗮𝘅𝗲𝗱, 𝗰𝗼𝗻𝘀𝘁𝗮𝗻𝘁𝗹𝘆 𝗮𝘄𝗮𝗿𝗲 𝗮𝗻𝗱 𝗽𝗿𝗲𝗽𝗮𝗿𝗲𝗱, 𝗮𝗻𝗱 𝗼𝗻𝗳𝗹𝗼𝘄𝗶𝗻𝗴. 𝗔𝘀 𝗮 𝗯𝗮𝘀𝗶𝗰 𝗳𝗼𝗰𝘂𝘀, 𝘁𝗵𝗲 𝗱𝗮𝗻𝗰𝗲𝗿𝘀 𝗿𝗲𝗺𝗮𝗶𝗻 𝗶𝗻 𝗽𝗵𝘆𝘀𝗶𝗰𝗮𝗹 𝘁𝗼𝘂𝗰𝗵, 𝗺𝘂𝘁𝘂𝗮𝗹𝗹𝘆 𝘀𝘂𝗽𝗽𝗼𝗿𝘁𝗶𝘃𝗲 𝗮𝗻𝗱 𝗶𝗻𝗻𝗼𝘃𝗮𝘁𝗶𝘃𝗲, 𝗺𝗲𝗱𝗶𝘁𝗮𝘁𝗶𝗻𝗴 𝘂𝗽𝗼𝗻 𝘁𝗵𝗲 𝗽𝗵𝘆𝘀𝗶𝗰𝗮𝗹 𝗹𝗮𝘄𝘀 𝗿𝗲𝗹𝗮𝘁𝗶𝗻𝗴 𝘁𝗼 𝘁𝗵𝗲𝗶𝗿 𝗺𝗮𝘀𝘀𝗲𝘀: 𝗴𝗿𝗮𝘃𝗶𝘁𝘆, 𝗺𝗼𝗺𝗲𝗻𝘁𝘂𝗺, 𝗶𝗻𝗲𝗿𝘁𝗶𝗮, 𝗮𝗻𝗱 𝗳𝗿𝗶𝗰𝘁𝗶𝗼𝗻. 𝗧𝗵𝗲𝘆 𝗱𝗼 𝗻𝗼𝘁 𝘀𝘁𝗿𝗶𝘃𝗲 𝘁𝗼 𝗮𝗰𝗵𝗶𝗲𝘃𝗲 𝗿𝗲𝘀𝘂𝗹𝘁𝘀, 𝗯𝘂𝘁 𝗿𝗮𝘁𝗵𝗲𝗿, 𝘁𝗼 𝗺𝗲𝗲𝘁 𝘁𝗵𝗲 𝗰𝗼𝗻𝘀𝘁𝗮𝗻𝘁𝗹𝘆 𝗰𝗵𝗮𝗻𝗴𝗶𝗻𝗴 𝗽𝗵𝘆𝘀𝗶𝗰𝗮𝗹 𝗿𝗲𝗮𝗹𝗶𝘁𝘆 𝘄𝗶𝘁𝗵 𝗮𝗽𝗽𝗿𝗼𝗽𝗿𝗶𝗮𝘁𝗲 𝗽𝗹𝗮𝗰𝗲𝗺𝗲𝗻𝘁 𝗮𝗻𝗱 𝗲𝗻𝗲𝗿𝗴𝘆."
"𝗧𝗵𝗲 𝗿𝗲𝗮𝘀𝗼𝗻 𝗶𝘁𝘀 𝗰𝗮𝗹𝗹𝗲𝗱 𝗰𝗼𝗻𝘁𝗮𝗰𝘁 𝗶𝗺𝗽𝗿𝗼𝘃𝗶𝘀𝗮𝘁𝗶𝗼𝗻 𝗯𝗲𝗰𝗮𝘂𝘀𝗲 𝘁𝗵𝗲𝗿𝗲 𝗶𝘀 𝗮 𝟯𝗿𝗱 𝗲𝗻𝘁𝗶𝘁𝘆 𝘁𝗵𝗮𝘁 𝗮𝗿𝗶𝘀𝗲𝘀 𝗶𝗻 𝘁𝗵𝗶𝘀 𝘀𝘁𝗮𝘁𝗲. 𝗛𝗼𝗽𝗲𝗳𝘂𝗹𝗹𝘆 𝘆𝗼𝘂 𝗴𝗲𝘁 𝘁𝗼 𝗮 𝘀𝘁𝗮𝘁𝗲 𝗼𝗳 𝗮𝗴𝗿𝗲𝗲𝗺𝗲𝗻𝘁 𝗯𝗲𝘁𝘄𝗲𝗲𝗻 𝘁𝗵𝗲 𝘁𝘄𝗼 𝗼𝗳 𝘆𝗼𝘂 𝘁𝗵𝗮𝘁 𝗻𝗲𝗶𝘁𝗵𝗲𝗿 𝗼𝗻𝗲 𝗼𝗳 𝘆𝗼𝘂 𝗶𝘀 𝗹𝗲𝗮𝗱𝗶𝗻𝗴. 𝗜𝘁 𝗱𝗼𝗲𝘀𝗻'𝘁 𝗯𝗲𝗰𝗼𝗺𝗲 𝗹𝗲𝗮𝗱𝗲𝗿𝗹𝗲𝘀𝘀, 𝗶𝘁 𝗶𝘀 𝘁𝗵𝗲 𝘁𝘄𝗼 𝗼𝗳 𝘆𝗼𝘂 𝘄𝗵𝗼 𝗮𝗿𝗲 𝘁𝗼𝗴𝗲𝘁𝗵𝗲𝗿 𝗹𝗲𝗮𝗱𝗶𝗻𝗴."