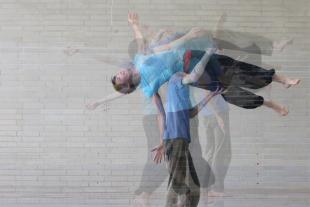 Mühelos Fliegen – oder das Spiel mit der Schwerkraft

Wie kann ich einen Sprung oder Lift ohne Anstrengung mit meinem Tanz verweben?
Wie kann ich dazu Prinzipien verwenden, ohne einer zu strikten Form zu folgen?
Wie kann ich im gegenseitigen Einverständnis liften oder geliftet werden?

Für mich sind Lifts und Sprünge ein essentieller Teil der Contact Improvisation.
Eine Frage, die mich immer wieder beschäftigt ist, wie diese möglichst mühelos und ohne viel muskuläre Kraft passieren können, ob sie nun mit oder ohne viel Schwung ausgeführt werden.
In diesem Workshop werden wir mit viel Leichtigkeit einige fliegende Facetten der Contact Improvisation erforschen. Es geht vor allem um das Lesen der Partner*innen und um den Moment in dem der Lift gemeinsam passieren kann. Dadurch lassen wir Formen entstehen und spielen mit ihnen in der Improvisation.

Menschen mit wenig bis viel CI Erfahrung sind willkommen.
Kosten 30€-60€ nach Selbsteinschätzung.
Bei Fragen schicke bitte eine Mail an mail@jo-bruhn.de
Anmeldung unter
https://form.jotformeu.com/93014516563353
English version
Flying effortlessly - or playing with gravity

How can I weave a jump or lift into my dance without effort?
How can I use principles without following too strict a form?
How can I lift or be lifted by mutual agreement?

For me lifts and jumps are an essential part of Contact Improvisation.
A question that keeps me busy again and again is how they can happen as effortlessly as possible and without much muscular strength, whether they are done with or without much momentum.
In this workshop we will easily explore some flying facets of Contact Improvisation. About reading the partners and the moment when the lift can happen together. In this way we create forms and play with them in improvisation.

People with little to much CI experience are welcome.
Costs 30€-60€ pay what you can.

To register please write an email to mail@jo-bruhn.de