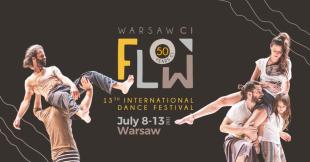 𝟭𝟯 𝗲𝗱𝗶𝘁𝗶𝗼𝗻 𝗪𝗮𝗿𝘀𝗮𝘄 𝗖𝗜 𝗙𝗹𝗼𝘄 celebrates 50 years of contact improvisation. We invite international teachers to facilitate our practice in contact technique, somatics and performance arts. Alongside the festival, we hold an exhibition and discussions about the history and social context of CI.
We are aware that times are difficult, and our hearts are with Ukraine. We decided to fund scholarships for refugee dancers and dedicate a part of our income to Ukrainian relief funds. 

Stay tuned: The full programme on www.polandcontactfestival.com will be available soon!
Check out: 
FB https://facebook.com/warsawflowfestival
Instagrams https://www.instagram.com/warsawflowfestival 
Save the dates 𝟴-𝟭𝟯 𝗝𝘂𝗹𝘆 𝟮𝟬𝟮𝟮 at MIK Warszawa. 
Registration opens: 20 April 2022

Teachers: Mirva Mäkinen, Edo Ceder, Antoine Ragot, Iwona Olszowska, Pawel Konior, Colleen Bartley, Nica Portavia, Michal Ratajski, Filip Wencki, Pawel Kubiak, Magda Brzozowska, Tomasz Jimmy Kowalski, Klara Łucznik, Paulina Święcańska, Zuzanna Bukowski, Hania Jurczak