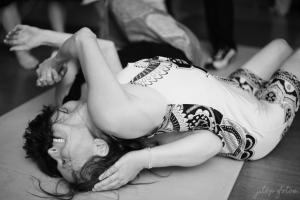 As a tanguera, I dive in contact impro tasting how this discipline is nurrishing my body awarness, the delicacy of changing wheights and connecting with the space (including partners !).
Inspired by Body Mind Centering (certification with Anne Expert running), and Non Violent Communication, I open spaces to explore how to allow one's body to organize itself in a comfortable and playfull "Walk" and "Embrace", specially for Contact Tango.
At the crossroads of dance, somatics, and communication, I organize the "Rencontres TANGO CONtACT" in Toulouse and close from Strasbourg .