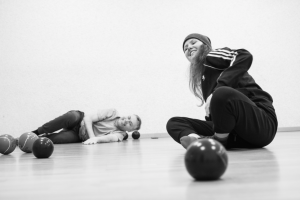 Margarita Kozhevnikova is a somatic movement specialist and educator. She facilitates group and one-on-one embodiment experiences for people. She has received a Bachelor of Arts Degree in Dance from University of Calgary where she developed as a performer. In addition, she holds a post-graduate certification in Laban/Bartenieff Movement Analysis. She has been studying Contact Improvisation, dance, movement and somatics since 2008 with teachers from Canada, USA, Europe and Russia. Since 2014 she has also been regularly meditating and attending meditation retreats. Over the past eight years she has also continued her studies to improve her touch skills using methods like:
- touch for somatic and movement repatterning
- classical massage
- myofascial release and integration
- presence touch
- embryology and touch
- experiential anatomy
All of these approaches guide Margarita's exploration in Contact Improvisation. She has also used Steve Paxton's "Material for the Spine" and classical fitness to help people develop their solo practice in preparation for movement with duets and groups.


Originally born in Russia, she has lived, studied and worked in Calgary, Canada for most of her life. Recently she has lived in Moscow, Russia in order to deepen her research in embodiment.
What attracts and warms Margarita's heart in working with people to help them become more embodied is the constant evolution of aliveness that is ever-present and is constantly showing up in new and fresh ways. She believes that allowing the body-mind-awareness to unfold using practices that gently guides humans towards deepening states of the unknown with interconnection, clarity and buoyant presence is a worthy goal. Experiencing deepening aliveness directly as well as constantly discovering how to live every area of our shared life from that freshness of being is always available.
On a personal level, Margarita is researching how to live in every moment and in every are of life from a perspective of a friendly, soothing and playful attitude aka being content yet interested. Professionally, she is working towards acquiring International Somatic Movement Educator and Therapist recognition. She is also planning to continue studying Writing and Narrative Practice, coaching and counselling methods to help people uncover and integrate meaning behind direct experiences of different states of being. Since the beginning of 2021, she has been studying meditation with a senior buddhist teacher, Stephen Snyder, one-on-one and as part of a teacher training program focusing on concentration and heart practices.
Her skills and expertise include:
Teaching Contact Improvisation using physical exercises and working with concentrated attention
Offering one-on-one embodiment coaching to help people with:
- transcending chronic physical pain
- anxiety
- procrastination
- difficulty falling asleep
- discovering intimate comfort and pleasure in relating to their bodies
- accumulating physical energy
- deep relaxation
- honest enjoyment of regular exercise
Creating online group classes to help people with:
- learning about physical pain and that it is okay not to be afraid of it
- beginning to enjoy fitness and physical exercise but with a friendly and soothing approach
Margarita's interests and hobbies include:
- meditation
- regular writing practice
- reading
- nature
- watching interviews