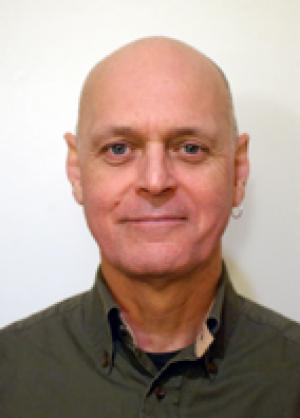 EDAM (an acronym for Experimental Dance and Music) is both a physical space, and a dance Company. It was formed in 1982 by seven independent artists: Peter Bingham, Jay Hirabayashi, Lola MacLaughlin, Jennifer Mascall, Peter Ryan, Barbara Bourget and Ahmed Hassan. In 1989, Peter Bingham became EDAM's sole Artistic Director and the Company has flourished under his guidance since then.
Bingham began performing in 1977 and is a pioneer of Contact Improvisation, a dance form that emphasizes flow and the cooperative exchange of weight between partners. Peter has created over 100 choreographed works and performed in hundreds of improvised performances in theatres, dance festivals and universities across Canada, the United States, Europe and Asia. He is also the central figure in the book "The Man Next Door Dances: The Art of Peter Bingham" by Kaija Pepper published in 2008. Now, a mature artist, Bingham continues to position the Company within the changing ecology of the form and finds innovative ways to foster opportunities for community.
Bingham is noted for several contact-inspired choreographic efforts, including his large multimedia work, Teller of Visions (1986), Cryptic Heart (1989) and Dreamtigers (1992) and Born Naked, Died Blonde (1996), among others.
Znaczący nauczyciele
Peter Bingham was born in Vancouver. He met teacher and choreographer Linda Rubin while studying at Simon Fraser University and later performed with her dance company, Synergy. He also studied contact improvisation with Americans Steve Paxton and Nancy Stark Smith in Vancouver during the mid-1970s before co-founding his own contact improvisation group Fulcrum, with Andrew Harwood and Helen Clarke. Bingham has collaborated with numerous other artists. Most notably, his most frequent and ongoing collaborative performances with other key figures in the contact improvisation community are with American dance artists Chris Aiken, Ray Chung and Nancy Stark Smith. Bingham has also collaborated with non-contact performers. In 2002, for instance, he created and performed Thirst with Wen Wei Wang, the artistic director of Wen Wei Dance. A revised version of Thirst appeared at the Dance in Vancouver Festival in 2005. Also in 2005, Bingham collaborated with Crystal Pite, artistic director of Kidd Pivot. Together, Bingham and Pite created Vanishing Point, a work using improvisation to explore the ephemeral nature of dance. Another important collaboration that Bingham is involved in is The Echo Case. This group is a contact improvisation ensemble that grew out of EDAM's summer intensive, a workshop period for concentrated exploration intended for experienced dancers. The Echo Case features Bingham as well as dancers Marc Boivin and Andrew Harwood in concert with musicians Ron Samworth and Coat Cooke and lighting designer Robert Meister. Bingham is one of the most influential teachers of contact improvisation in Canada. In 2005, the Scotiabank Dance Centre in Vancouver awarded Bingham the Isadora Award for Teaching in recognition of his generosity and excellence as a mentor.