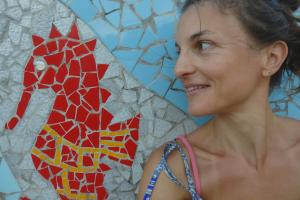 Anabel Pestaña
Movement researcher, multidisciplinary performer, teacher and therapist.
Originally from Switzerland, she has been living in Brazil and is currently based in Spain. She holds a Bachelor of Arts and a Master's in Communication and Expression and has been trained in dance, theater, taiji quan and tui-shou since 1994. Explores and practices Contact Improvisation since 1999 and starts teaching from 2008 onward. Member and co-founder of VVAA (VvarisAArtistes) an interdisciplinary artist collective. Her research and artistic path has been influenced by different cultures and is deeply interlaced with self-inquiry, interpersonal observation and energetic work. Continuing deepening the research she explores various techniques, such as Eutony, Feldenkreis, Contemplative Movement Practice. In the energetic field of the body, she certifies as Master in Usui Reiki Ryoho, Auriculotherapy and Metamorphic Technic.
Her works are performed in galleries, site-specific, arts festivals and theaters. In her dance practice she's mainly inspired by Contact Improvisation, Taiji Quan, Instant Composition, meditation, Eutony and Contemplative Movement Practice.
In 2010 she travels to the USA to participate in Nancy Stark Smith intensive training in CI, Underscore and composition and Contemplative Dance Practice with Barbara Dilley. Since 2011 she's collaborates regularly in international gatherings such as ECITE. She leads workshops and classes in Spain, Switzerland, Peru and Brazil and organizes Underscore gatherings in Barcelona.