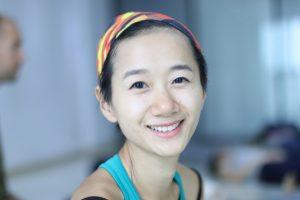 Contact improviser, Contact Improv.Chengdu community facilitator
Shan graduated from the University of Bedfordshire in UK and her Master majored in Dance choreography and Performance between 2014-2016.
She began her journey of Contact improv was initially started from one of her dance course in UK, eventually fall in love and inspired deeply from 2016 in Japan until now.
She founded Contact Improv.Chengdu community in China.Chengdu since 2016, until now the community membership over 500 people online and hundreds of people experienced the CI open class, Jam, workshop and public performance locally. she also cooperated with many of CI guest teachers who supported Chengdu Contact intensive workshops over 28 times with University, Yoga studio, Dance center and art platforms.
Now she is working as Education manager of the Duncan dance academy in China, on the way she still keep organizing regular Jam twice a week, monthly CI events and international CI workshops.
Recent years there are some of Chinese CI communities are growing speedily for spreading the dance form of Contact Improvisation in China, I wish the dance form of CI can be embraced into everyone's life and relationship, to communicate with the world through Contact.