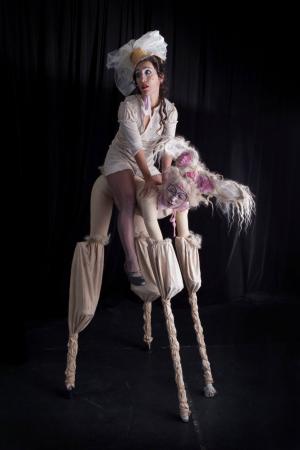 Nayana Fielkov is a critically acclaimed Canadian based performing artist dedicated to the work of play. Beginning with scripted plays and musicals over two decades ago, she evolved through the creation and wearing of masks, into the worlds of improv and original work.
​
Nayana has performed at recognized festivals and venues across the nation with her genre-bending approach to theatre. She is co creator of multi-award winning RAGMOP Theatre, Habitats, and The Myrtle Sisters. She brings together the mediums of clown, dance, mask, and physical comedy. Along with her touring duo shows, she creates ensemble work, roving acts, hosting characters, variety acts, and is an active and founding member of Vancouver's cherished Dusty Flowerpot Cabaret. She teaches contact dance and clown internationally, and has facilitated youth in theatre creation for many events including The International Children's Festival. Nayana is also a maker of puppets, clothing, costumes, and is a proud mother of a nine year old boy.
​
"Nayana Fielkov is"… "immensely charming." - Collin Thomas, reviewer for the Georgia Straight Vancouver.
​
"Nayana Fielkov show(s) off an impressive range of skills." CBC