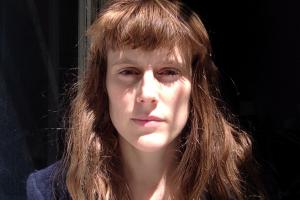 Moss Beynon Juckes is an artist, music composer, movement director, ritual maker and workshop facilitator born in Sydney and raised in the U.K. She is presently based in Berlin.
Her work is based on the idea of Art as Service. This means her approach to work and collaboration is based on the notion that art can expand connection, psycho-social positive feedback loops and expand consciousness. Her background in immersive theatre, performance and visual art, pop music and embodied ritual practice informs her current practice which is geared towards sustainable sci-art, constructing socially impactful, connective experiences where myth, magic and reality can merge through neuroscience and psychology.
Previous work and artistic influences. Moss has worked with partner Javier Cura on "The Ecological Body" an embodied practice of play and consciousness for 10 years, and for Tino Sehgals "This Variation" for the last 5 years. She was part of the company M.A.S. (Music, Art Science) in the U.K since 2015 and co-created "The Passion of Lady Vendredi", "20 Minutes of Action", "Your Reality is Broken" and "Tabloid" with Nwando Ebizie and Jonathan Grieve.