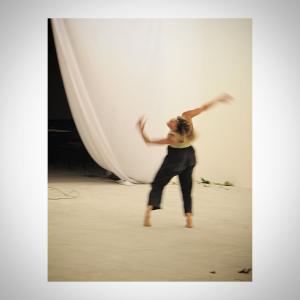 ENGLISH Dasha Lavrennikov, artist, choreographer, performer, curator and teacher was born in Moscow (1985) and began her dance education and exploration in the USA. She holds a BA in contemporary dance (USA), a Masters in Performing arts (Denmark/France), and recently received her PhD in Aesthetics, Communication and Culture (RJ, Brazil), followed by a research fellowship in Moscow. She has been creating, performing, and lecturing transcontinentally between Europe, Russia, South and North America. Working between a variety of museum, gallery, site specific and theater spaces, she likewise collaborates as artist and international curator with the Institute MESA, an experimental curatorial, research and artistic platform in Rio de Janeiro Brazil.
Currently living in Barcelona, she teaches at the Institute of the Arts Barcelona, and guest teaches in the Masters in Live Arts Practice and Visual Culture in Madrid, as well as working as an artist-researcher in the Creative Europe Make a Move Project. As co-founder of the collective DuquesnayLavrennikov she has been performing her work Groundless Ground in multiple festivals in Copenhagen throughout Fall 2018. From 2013-2017 she lived in Rio de Janeiro, an Artist in Residence at the Museum of Contemporary Art in Niteroi (MAC), co-founded and curated the Entre Serras Artist Residence Project (2015-2018), as well as co-created the live arts work Icó Project which toured between Rio de Janeiro and Salvador da Bahia. She is currently continuing her collaborations with a growing community of artist on projects throughout Europe, Brazil and USA as well as teaching workshops internationally in contemporary dance, improvisation, composition, CI, and methods and tools for artistic research.
ESPAÑOL Nacida en Moscú, Rusia, lleva más de 20 años dedicada a la danza, performance, curaduría, enseñanza e investigación de movimiento y artes vivas. Licenciada en danza contemporánea en Estados Unidos, Máster en Artes Escénicas entre Dinamarca y Francia, y PhD en Estética, Comunicación y Cultura (UFRJ) en Brasil con una estancia de investigación artística en Moscú. Ha trabajado como intérprete y coreógrafa en diversos proyectos y espacios de teatros, salas alternativas, museos, galerías entre Europa, Latino América, Estados Unidos, Rusia e India, colaborando como artista, profesora y curadora internacional en el Instituto MESA, una plataforma experimental de investigación, curaduría y creación artística en Río de Janeiro, Brasil.
Actualmente vive en Barcelona donde continua con su investigación y creación artística, trabajando en el Instituto de las Artes Barcelona. Ha colaborado como docente en el Máster en Prácticas Escénicas y Cultura Visual en Madrid. Es la co-fundadora del colectivo de danza y live arts DuquesnayLavrennikov, donde desarrolla el trabajo Groundless Ground, mostrado en múltiples festivales en CopenhagUe. Entre los años 2013-2017, vivió en Río de Janeiro, donde fue artista residente en el Museo de Arte Contemporáneo de Niteroi (MAC), cofundó y gestiono el Proyecto de Residencia Artistica Entre Serras (2015-2018), así como creo Icó Project, un trabajo de artes vivas, que realizó una gira entre Río de Janeiro y Salvador de Bahía. Actualmente ella continúa desarrollando sus colaboraciones con una comunidad emergente de artistas en proyectos entre Europa, Brasil y Estados Unidos, así como dando workshops y talleres a nivel internacional de danza contemporánea, improvisación, composición, contacto improvisación, métodos y herramientas para la investigación artística.