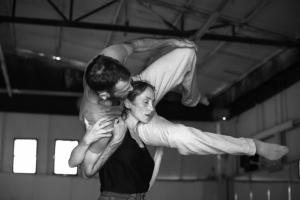 Olivia Court Mesa (1980) is a chilean-israeli independent dance artist.
Devoted to performance art for the past 20 years, performing, choreographing, improvising and working for other creators as well. Olivia started dancing and performing at age 14 in Chile with Oscar del Bardo's physical theater Company. At 17 she moved to Germany and studies contemporary dance and teaching at the Hochschule für Musik und Tanz Köln .
She was awarded scholarships to visit the annual summer academy in Kyoto and from Vivianne Wood (DV8) to finish he studies. After graduating she worked as freelancer with VeraSanderArtConnects (Germany) and Angulo Alterno (Mexico) companies. She joined the companies MSschrittmacher in the Theater of Oldenburg and then Marco Santi Tanztheater in the Theater of Osnabrück , where she worked with Guy Weizman & Roni Haver, Martin Stiefermann, Marco Santi, Luc Dunberry, Massimo Gerardi, Verena Weiss and Antje Rose, among others.
Since 2010 she has been based in Tel Aviv, Israel. Currently she is dancing with Yossi Berg & Oded Graf, Renana Raz, Sahar Azimi, Roy Assaf, Dafi Altabeb and Rotem Tashach. As a performing artist she explores the constant changing of being in a playful and truthful way, exposing herself to different styles and ways to construct art in order to find herself over and over new and unknown, even to herself. In 2017, she received Israel's Ministry of Culture Award for "Best solo performer 2017". As a choreographer she has been creating since 2001, and in 2015 participated for the third time with her work in the Intima Dance Festival, Tel Aviv, Israel.
Her new work "I carry, you hold", was premiered in November 2019 in Curtain Up Festival . Besides her passion for performing art, Olivia has been exploring different sources of understanding movement; floor work and partnering work with a clear approach for anatomy and functional movement that became part of her teaching language that she shares in different schools and dance companies in Israel and abroad.
She is a mother of two, Vipassana meditator, studied Ilan Lev method and is a member of the contact improvisation community in Israel.
Yochai Ginton (Israel, 1981) is an independent dance artist and dance teacher based in Israel. After completing the Dancers' workshop in Kibbutz Ga'aton , and The Maslool Professional Training , Ginton began working with choreographers: Sally-Anne Friedland, Nima Jaakoby, Sharona Florsheim, Talia Beck and Dafi Altabeb. He has also collaborated with the Cameri Theatre and Klipa Theatre in the play "Badenheim". He was a member of the "Octet Dance Improvisation Group" and participated in the "Improvisation project with the Beijing Dance Company".
He collaborates with different choreographers and tours and performs around the world. His most recent work is a full-length solo piece "The One Hand Sound" created in collaboration with the choreographer Sharona Florsheim.
Yochai is a member of the contact improvisation association. Has around 20 years of experience in the field of contact improvisation. He teaches workshops, intensives and courses at dance schools and other institutions across Israel and abroad. His teaching is based on a deep passion, in finding crossroads between contact in its improvised form and contemporary partnering work. Yochai is also a Feldenkrais practitioner and a Vipassana meditator who loves to dance Argentine Tango.