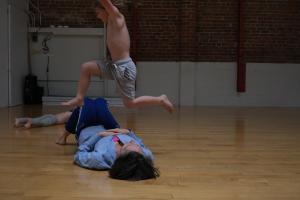 I am a dancer, mother and therapist. In the last 20 years I have been exploring and deepening my practice of embodiment. My guide is the dance. I consider Frey Faust, Sarah Shelton Mann and Mary Armentrout as my main influences. My studies in dance are expanding more into the somatics of sensations. For me (Contact) Improvisation is a practice of presence through the movement of attention.
During the last years I have been practicing weekly moving and witnessing scores developing from the foundation of Authentic Movement. This shapes and fine tunes my understanding of improvisation and the witnessing of the mystical ways of existence.
I have recently finished my BCST (Biodynamic Craniosacral Therapy) training and started to dive into pre and perinatal work. Teaching Contact Improvisation, facilitating somatic process work and giving private movement and BCST sessions is what I do for living. I live a simple life with my family in Bellingham, WA next to a beautiful creek.