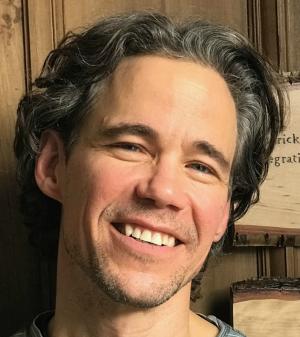 PATRICK CROWLEY teaches and organizes CI and improvisation events in the western Massachusetts/Northampton area and occasionally travels. He has been involved with Contact Improvisation since 1983. He is a dancer, teacher, performer, bodyworker, and yogi. He has taught nationally and internationally at dance centers, universities, retreat centers, organizations, and yoga centers. 
Patrick teaches Contact Improvisation, somatics, anatomy and bodywork, yoga, personal process, and Authentic Movement. He has been practicing the Underscore since 1990 and coordinates the Global Underscore along with Nancy Hughes. Global Underscore is a yearly event of dancers dancing a 3-4-hour Underscore simultaneously around the globe at 65+ sites. Patrick helped Nancy Stark Smith coordinate her yearly 3-week intensive, the January Workshop, and several other events. For 14 years he co-led the Longdance, an outdoor seasonal ritual, including a sweat lodge, personal process, movement, Playback Theatre, sacred space, and connecting to nature.
Patrick was certified in bodywork by Sensei Toshiko Phipps, was Nationally Certified in Bodywork in 1993, and is a member of Associated Bodywork and Massage Professionals.
Patrick has a background in contemporary dance, Body-Mind Centering®, somatics, vipassana meditation, Playback Theatre, New Dance Technique, Action Theater, mixed-ability dance, martial arts, shamanic studies, and leadership development.
He has taught at Yale University, Boston University, Cambridge School of Weston, the School of the Museum of Fine Arts, Cape Cod Community College, Harvard University, Boston Community Center for the Arts, Dance Complex, Freiburg International Contact Improvisation Festival, Buenos Aires Contact Improvisation Festival, Boston Contact Improvisation Festival, Montreal's ACI Contact Improvisation Festival, Earthdance, Dance New England, Wild Life Sanctuary, Blue Guitar Studio, Green Planet, and Yoga Sanctuary. In addition to most of the venues above, he has performed at the Boulder Fringe Festival, A.P.E., Radcliffe College, Helix, and many others. Patrick performed with the Zany Angels Dance Theatre Company from 2006-2014. He is a member of the Underscore +/- group which Nancy Stark Smith started in 2020 and danced in until her death; it is a research group for experienced dancers, who do showings from time to time.
Patrick also produced workshops by several teachers, including Nancy Stark Smith's annual 3-week January Workshop and Joel Gluck's Psolodrama workshops. He has been a consultant with Artemis Joukowsky's Farm Pond Pictures for many years, inlcuding with the documentary film, Defying the Nazis.