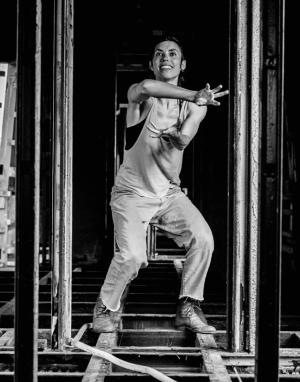 Mileen is a dancer & performer, poet and dance teacher. Some years after her master in social work & pedagogics (University of Ghent), she graduated in 2011 at TIP, school of dance, improvisation and performance in Freiburg (DE), which nourished and deepened her love for instant composition, contact improvisation and the many layered world of our moving and poetic body.
Along the way Mileen as well fell in love with teaching. She finished a training in education in the arts and since many years now deepens her practice by performing and by teaching nationally and internationally. Since 2012 Mileen coordinates and teaches the dance trajectories for WISPER, a leading organization for art education for adults in Belgium. In 2013 she started initiating and teaching regular CI classes and jams in Ghent (BE) which evolved into a beautiful young and growing community. Since 2013 she is part of the Belgium based artistic collaboration POST.TRAUM.Collective.
In her teaching Mileen is passionate about supporting a space, a container where people can grow in (body)awareness. She values a profound as well as playful approach to empower people to plug-in to their movement potential, multi-layered physical and artistic expression.
Both instant composition and contact improvisation are her habitat. Universes. Lifestyles. Passions. Poetic realities within and interconnected to our daily reality. The body is her place and the space through which life is experienced, known and understood.
Other keywords and fascinations that move Mileen's work: reflexes and instinct, inter-human connections, surrendering to our power, efficiency in motion, the diverse movement qualities we hold in our bodies, musicality in movement, the fine universes of the different senses as well as the different body systems, …
значимые учителя
David Zambrano (VE/BE), Maya M. Carroll (IL/DE), Julyen Hamilton, Lilo Stahl (DE), Bernd Ka (DE), Adrian Russi, Bettina Helmrich (DE), Kirstie Simson (US), Noam Carmeli (IL), Billie Hanne (BE), Batsheva Dance Company, Zuna kozànkovà (SK), 'Fighting Monkey', Shai Faran (IL/DE), Bruno Caverna (Play Fight), Keith Hennessy (USA), Claire Filmon (FR), Ray Chung, Mirva Mäkinen (FIN), Yaniv Mintzer (IL), Daniel Werner (DE), Vega Katri Luukkonen (FIN), Iiris Raipala (FIN), Itay Yatuv (IL), Lior Ophir (IL), Arye Bursztyn (IL), Yochai Ginton (IL),...