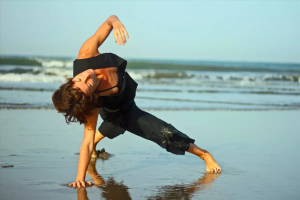 Irene Sposetti  💫 BeingMotion  
Irene is a multidisciplinary performing artist, educator and choreographer.
While originally from Italy she has spent the last 19 years traveling and living in Europe, India and China.
Her formal training is in dance, classical music (flute and voice) and theatre.
Her artistic path has been influenced by many different cultures and is deeply intertwined with her self-inquiry, spiritual practices and philosophy. Her dance practice is mainly inspired by Contact Improvisation, Instant Composition Techniques, Experiential Anatomy, Body-Mind Centering, Body Work, Yoga, Meditation and Singing Practices. The main theme of her movement research is improvisation. Through her practice she aims for a heightened state of presence, increased awareness in the body, effortless motion, and a broadening of the technical and investigative skills of the mover. She has a particular interest in intuitive learning processes, empowering individuals, and promoting independent research and artistic projects. She explores inner and outer ecology - believing that a healthy and creative relationship to the body can generate awareness, trust and authenticity in our lives as individuals and as a collective.
In 2011 she created Being Motion, a platform for sharing her artistic practices, research, creations and educational projects. @BeingMotion
For the last fourteen years she has traveled as an independent freelancer artist offering dance trainings, performances and lectures in universities, schools, cultural institutes and private associations throughout Europe and Asia.
Irene is deeply engaged in the research and spreading of Contact & Improvisation by teaching, organizing dance events and promoting the growth of new CI communities, especially in China and India. She regularly attends international gatherings of teachers and practitioners investigating further the practice and its development. Since 2009 she has been involved with the Goa Contact Improvisation festival, particularly engaged in the making of the Dance Exchange Program and its performances.
She is a performer and director using mainly improvisation and instant composition, investigating and combining movement, live music and text. Her choreographies are performed in theaters, site specific, galleries, dance festivals, video projects and fashion shows.
She has been developing most of her work at: Beijing Minzu University, Beijing Normal University, Beijing Capital Normal Univeristy, Nanchang Normal University, Shanghai Normal University, Ltdx Dance Academy, Beihe Academy Nanjing (China), Balletakademien (Stockholm), Ials (Rome), Gati (Delhi), 9 Company (Beijing), HouYing Dance Company (Beijing) Danceworx Company (Delhi/Mumbai) and Terence Lewis Dance Company (Mumbai), Les Temps du Corps (Paris), Play Practice Residency (Bangalore), Goa Dance Residency, KamshetCI (Pune ),  Auroville ( India ), Ibiza and Barcelona. 
She participates since 2005 as teacher, performer and musician in numerous contact improvisation, contemporary dance and yoga festivals all over the world: Touch (Beijing), Freiburg, Vienna, Poland, Ester Impro, CmC Gottingen, Ibiza, NIM, Glarisegg, Goa, Malmö, Italy CI festivals; Beijing Universities Dance festival, Avayava (Pune), Fico Journey (Slovenia), Nataraj Dance Festival ( Delhi), Shakti festival (Delhi), No Mind, Yoda and Space of Love (Sweden), Mandala fest (Moscow).
Her latest choreographic works and performances: "Anima" dance video directed by M.Belin, choreography-casting by BeingMotion, Shanghai 2018   "You" dance peroformance with I.Sposetti and Xindi Chen, Beijing 2017-2018 "Conversations"   sites pecific dance performance with I.Sposetti, Yu-Chien Cheng and Jess Seetoo, Improvisation Festival, Shanghai 2017 " The scenes of the street"  Dance theater performance directed by Yu-Chien Cheng, Inch Dance Company, Insideyuz, Shanghai 2017 "WuWei" Dance theater performance co-directed by Irene Sposetti and Zhao Xi, the New festival, Beijing 2016 "Conversations" sites pecific dance performance, directed by I.Sposetti,  Nanchang 2016 "Hong" dance performance directed by Zhao Xi, Beijing 2015 "Nanachang Normal Uniersity" dance performance, directed by I.Sposetti,  Nanchang 2015 "Beijing Design Week"  sites pecific dance performance, directed by I.Sposetti with seven dancers and live music,   Beijing 2015 "Rise" dance performance, created by BeingMotion with Irene Sposetti and Johan Nilsson, Sweden/India, 2012-2013