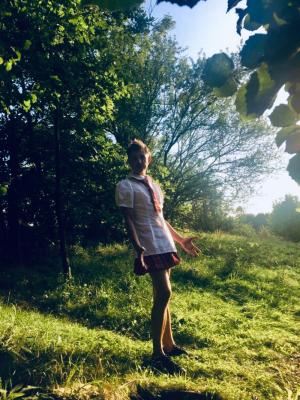 Emma Bigé, PhD, digs, writes about, translates, curates, and improvises with contemporary experimental dances and queer& trans*feminist philosophies. S/he lives and teaches and researches nomadically in and out of Paris, le Périgord, Aix-en-Provence and other destinations reachable by train. S/he fell in dance in North America and Western Europe with Steve Paxton, Lisa Nelson, Nancy Stark Smith, Matthieu Gaudeau, and many others. And currently investigates the somatopolitical potentials of dance for mobilizing sensitivities to other critters.
A dance improviser curious to bring philosophy in the dance studio, s/he dedicated a PhD dissertation to Contact Improvisation (Le partage du mouvement, École Normale supérieure, 2017) which led to the curation of two exhibition-performances: Gestes du Contact Improvisation, for the Musée de la danse in Rennes in 2018 and Steve Paxton: Drafting Interior Techniques co-curated with Joaõ Fiadeiro for Culturgest in Lisbon in 2019 (which, in 2020, is travelling to Bilbao, Pais Vasco, Spain).
A Professor in Art Epistemology at the Ecole Supérieure d'Art in Aix-en-Provence, s/he teaches textual-conceptual practices to a variety of audiences: highschoolers, college students, dancers, somatic practionners. The rest of the time, s/he endeavours to prepare uprisings, and awaiting the great days, rolls on the ground.
Dance training involves work with contemporary choreographers and improvisers in the US and in Europe including Matthieu Gaudeau, Lisa Nelson, Nancy Stark Smith, Charlie Morrissey. As a dramaturg, s/he worked with stage directors Linda Dušková and Justine Wojtyniak. And as a performer, s/he collaborated among others with Myriam Lefkowitz, Chris Aiken, Boris Charmatz, Antonija Livingstone.
In 2014, s/he co-founded L'oeil et la main, a collective aimed at promoting dance, somatic and academic practices around Contact Improvisation. In 2017, s/he joined the Round Robin Project, which aims at creating an Global Contact Improvisation Anarchive of Contact Improvisation, with the support of a CN D grant for 2019.
Interested in the way movement practices shape sensory cartographies, s/he collaborates with Asaf Bachrach to the Labodanse, a CNRS laboratory on neuroscience and danced improvisation & with Alice Godfroy to the Improvisation Summer School, a biennal academic research program in Improvisation studies.