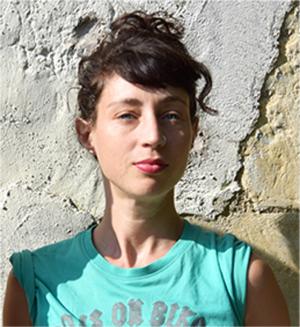 Léa is a dancer, choreographer, and Laban notator. Simultaneously to her dance training in Poitiers (France), Léa Bonnaud also read English at university. She has since kept a taste for observing and comprehending body "mechanisms" - similarly to studying linguistic mechanisms, and for relations between individuals and society - similarly to studying a civilisation.
Her predilection for history and its traces within the contemporary world appears in her creation or education projects on dance history (transmission of repertoire choreographies from scores, research on postmodern dance), or on dance linked with art history.
She carried on her research on dance, movement analysis and body awareness first with Contact Improvisation, which she has been teaching since 2011 ; then, with kinetography Laban (Labanotation), a notation system for recording and analysing human movement, in which she graduated from the Conservatoire National Supérieur de Musique et de Danse of Paris.
She develops her choreographic projects within the Collectif Zone d'Appui Provisoire dance company : solo piece "Pistes" and short film "Retrouver les gestes" in 2014, duet in museums "Muses" in 2017, solo piece "After A" in 2021 ; teaching of Contact Improvisation since 2011.
As a freelance dancer, she is also a guest artist for artistic events. She collaborates for education projects, choreographs or performs for several dance, theatre, and street performance companies (Le Chiendent, Compagnie Off, La Nuit te soupire, Hors Laps, La Fabrika, Groupenfonction, Androphyne).
All these projects, wether personal or with other artists, feed her taste for multidisciplinary and performance forms.
______________
Danseuse, chorégraphe, et notatrice Laban (système d'analyse et d'écriture du mouvement, diplômée par le Conservatoire National Supérieur de Musique et de Dansede Paris en 2018), Léa a suivi, en parallèle de sa formation en danse à Poitiers, des études universitaire en anglais.
Elle en garde un goût pour l'observation et la compréhension du fonctionnement des « mécanismes » du corps – au même titre que l'étude de mécanismes linguistiques, et pour les liens entre l'individu et la société – au même titre que l'étude d'une civilisation.
Son penchant pour l'histoire et ses traces dans le monde contemporain se retrouve dans des projets de création ou pédagogiques autour de l'histoire de la danse et autour des liens entre danse et histoire des arts.
Elle développe ses projets chorégraphiques en Nouvelle Aquitaine au sein du Collectif Zone d'Appui Provisoire(solo "Pistes" et court-métrage "Retrouver les gestes" en 2014, duo Muses – escales dansées en muséeen 2017 ; enseignement du Contact Improvisation depuis 2011), et en Occitanie avec le musicien-performeur Eddy Crampes pour la performance particpative TRANSPIRE.
Elle porte un intérêt fort pour la notion d'espace – du corps, scénographique, architectural, espace entre performeuse et spectateurs.
Elle est également interprète, performeuse invitée pour des évènements, chorégraphe ou collaboratrice pour des projets pédagogiques avec plusieurs compagnies de danse contemporaine, arts de la rue, théâtre... : Cie Le Chiendent, Cie La Nuit te soupire, Compagnie Off, Groupenfonction, Androphyne, Hors Laps, La Fabrika, CieArlette Moreau.
Tous ces projets, personnels et autres, nourrissent son inclination pour les formes pluridisciplinaires et performatives.