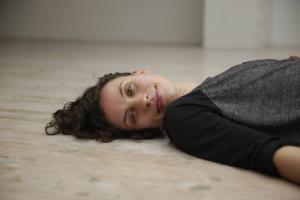 HICKS (CA) is a Canadian dance artist living in Frankfurt am Main, working in performance, choreography, and education.
Her choreographic practice is an exploration of kinaesthetic states, affects and intensities that are explored through improvisation. She is inspired by connections and inconsistencies, liveliness and complexity of meaning and humour. Creating several works as part of the duo Hicks&Bühler, "Der Klumpen" was selected for the Hessische Theatertage 2019, and "Strange Loops" was a co-production with Künstlerhaus Mousonturm and the Hessisches Staatsballett as part of the Tanzplattform Rhein-Main. In 2018 she was involved as a choreographer in the production "Rausch", produced by Schauspiel Frankfurt at the Bockenheimer Depot. In 2020 she worked with company LIGNA as choreographic support. She has been awarded numerous residencies including CC Heidelberg and the#TakeAction Artistic Residency with Künstlerhaus Mousonturm.
As a researcher, she was part of Le Project ICI (2017-2019, Paris) studying 'intersubjectivity' in joint improvisation, and was awarded the HTA Postgraduate Alumni Research Grant for in 2016, with which she collaborated with video artist Katelyn Styles to produce a short film "push and reach".
She holds an MA in Contemporary Dance Education, and from 2018 - 2020 was acting replacement professor for scenic body work, and is currently also a lecturer at the Frankfurt Hochschule for Music and Performing Arts for applied anatomy and body awareness. She is also a regular guest teacher for Dance Theater Heidelberg. Since 2016 she runs her own studio where she offers private training and workshops in anatomy, pilates, and gait training. As a teacher and practitioner of Contact improvisation she has been practicing for 16 years and teaches at festivals throughout Europe.