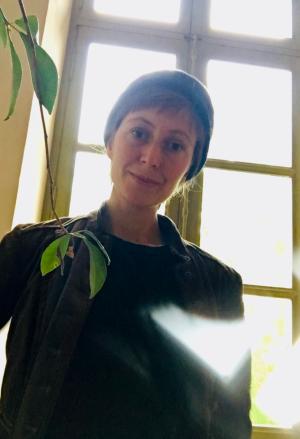 My name is Pénélope Laurent-Noye a.k.a les frontalières. I was born in Lyon (Fr) in 1988. I am a practitioner in the arts of attention, improvisation, contact-improvisation, trained in the field of dancemaking and contemplative practices. 
I took my first Contact-Improvisation class at the age of 15 as part of the contemporary dance curriculum at the CNSMD (high school in dance) in Paris, and at the age of 16 I first dove into a jam at the 'studio Multitude' in Paris. My first experience of 'new year's jam' in Bordeaux (organised by Mari Siles-Segarra & Co) when I was 17 left me with a special feeling, and it was also on this occasion in 2005 that I met the teachings of Patricia Kuypers & Franck Beaubois, which sparked the impulse to start exploring improvised practices more intensively.
From 2006 I moved towards a sustained exploration of contact-improvisation and improvisation/instant composition, by receiving teachings from many dance improvisers and by joining a variety of artistic collectives and projects rooted in improvised/performative practices, in Paris region, Dordogne, Brittany, Auvergne-Rhône-Alpes, Alsace, Lorraine, Luxembourg, Belgium... In 2009 the year I turned 21 I started teaching dance improvisation to groups of children and adults in Paris region, then in Brussels, Concepción (Chile), Lyon, etc.
I started to facilitate the co-generation of spaces and events for contact-improvisation practices in 2014.
Over the past decade and to this day, in order to question and nurture my practice in improvisation/CI, I was initiated to a wide variety of contemplative, creative, somatic and investigative approaches having as a common denominator to place lived, embodied, situated experience at the heart of the work.
Significant teachers
(we are all teachers to each other, aren't we) Kirstie Simson, Patricia Kuypers, Franck Beaubois, Julyen Hamilton, Katie Duck, Mark Tompkins, Catherine Contour, Leilani Weis, Lily Kiara, David Zambrano, Jess Curtis, Jules Beckman, Daniel Lepkoff, Charlie Morrissey, Asaf Bachrach, Mandoline Whittlesey, Matthieu Gaudeau, Mathilde Papin, Catherine Kych, Marie Rousseaux, Mathilde Rousseau, Léa Kieffer, Stéphanie Auberville, Marika Rizzi, Sandra Wieser, Sophie Dub, Céline Auclair, Céline Robineau, Lior Shoov, Gerry Quevreux, Cléo Laigret, Jean Raisonnier, Mirva Mäkinen, Anya Cloud, Mariana Montepagano, Gabriel Greca, Jérémy Chetrit, Léo Poncelet, Laurent Chanel, Otto Akkanen, Yohanna Bliss, Jurij Konjar, Aurore Fromentin, Nina Kozin, Ema Bigé, Nirvan Navrin, Steve Paxton (on how to "learn the way through the maze" while in a road trip), etc. and lots of jams.