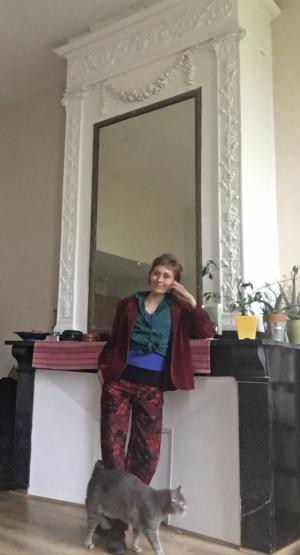 My name is Pénélope Laurent-Noye a.k.a les frontalières. I am a freelance practitioner in the arts of attention, trained in the field of dancemaking and contemplative practices. 
Particularly shaken by the encounter with the practices of improvisation and contact-improvisation, from my 18 years old I turned towards a sustained exploration of these practices, by receiving the teachings of many dance improvisers and by joining artistic projects and collectives rooted in improvised practices. In 2009 at the age of 21 I started to teach dance improvisation to groups of children and to groups of adults in and around Paris then Brussels, Santiago de Chile, Lyon, etc. I started to co generate spaces for the practice of contact-improvisation in 2014.
Over the past decade and to this day, in order to question and nurture my practice in improvisation, I was initiated to a wide variety of contemplative, creative, somatic and investigative approaches having as a common denominator to place lived, embodied, situated experience at the heart of the work.