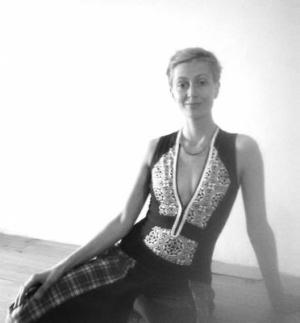 Pénélope laurent-noye a.k.a les frontalières is 'chercheureuse' (= experiencing the embodied phenomena through the 'method' of happy co incidences, or drifting) in 'archéopia' (= archeology of presence in interactions).
She is a dancer, a mindfulness practitioner and also an active member of the neurodiversity movement.
She spends most of her time exploring the territories of improvisation, contact-improvisation, contemplative walk, mindfulness meditation and introspective inquiry. She facilitates dance improvisation workshops since 2009 with adults, children and persons in situation of vulnerability. She cogenerates spaces for the practice of contact-improvisation since 2014.
She holds a bachelor's degree in dance (Univ. Paris 8) and a university certificate in mindfulness (ULB). She studied modern and contemporary occidental dance techniques from 1996 to 2006 ('Conservatoire à rayonnement régional', Lyon / 'Conservatoire national supérieur de musique et de danse', Paris) and worked as a dancer and performer in several performing arts projects from 2005 to 2015.
She is currently based in Ardèche (France) where she develops a creative process in  archéopia and a pedagogical research in ecoada.