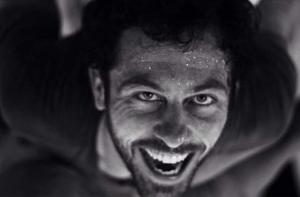 Where is the intersecction of dreamland and awaken realm at this big reality called Dream?
Alessandro Rivellino? What to say?
I have been living dance and contact improvisation in a surrendered way as a dancer for 17 years (if i do not count my childhood experiences) and as a teacher for 12, and I had the opportunity to travel to more than 16 countries, offering and having classes, intensive courses, workshops, residencies and Jams with different and experienced colleagues, which probably gave me a good "floor" to start with 'not knowing with certain quality' ...
I have also organized, with more people, different meetings and festivals of this beautiful practice, in Brazil, Peru, Argentina, Denmark, Portugal and Mexico. I come from different dance schools at the somatic level and movement research, today I see that I have danced and taught a good part of my life and yet I feel that I have just started. In my practice I have been integrating various techniques and bringing the potential of dance to life. If I ask myself between my name and my body, the second one is the dearest, and if you ask about my deepest interest in dancing and teaching the answer would be around living questions related to dance itself, to the presence and to the Big Mistery.
I Hope through this illusion of you and I being separated, we can drop it, and go beyond our hanging names to explore the in-between field of existence to dance and be danced with and through the visible and invisible forces entangled at each single moment and find the way to be at the arch of beauty.
...
"My research starts from discovering Synaesthesia, and when the body looses its own "identity" and is danced by the forces that pass through it. My work is nourished by a transpersonal approach in which technologies of the sacred have the possibility to change the energy strands that cross us, allowing multiple states and forces to manifest through dance."
Alessandro has been practicing and teaching contact improvisation for several years. Offering workshops, classes, intensives, festivals, retreats, labs and jams of this amazing practice in many countries and meetigs, having the opportunity to teach a lot. He was professor at the Municipal Dance Company of Porto Alegre and organized courses for actors and dancers, as a teacher of physical theater and as a trainer for artists.
Alessandro was graduated from UFRGS (Brazil) and did a Masters Degree in Performing Arts with research in Butoh, Visual Arts and street experimentation. He founded the ColectivoJoker, whose research went towards the hybridization of languages and gave life to works such as Architectural Interventions; "The City of Goma" (2013) which received 7 nominations for the Azorean Dance Award, including best dancer and best director, receiving the award for artistic excellence and research; and "JokerPsique" (2011), which was awarded by the Azorean Dance Award in the BestDancer category, in his name. Also nominated 03 different times at NewMedia category, with dancing related works.
For 10 years was being part of the Experimental Dance Group of Porto Alegre, for 03 editions as student, 01 as student and teacher, and for 06 more as teacher, also working as choreograph and director.
If we had to give a name to the other practices to which Ale was touched by it could be called "practices of wellbeing in an intuitive horizontal form", as he was part of a program linked to Unipaz (University for Peace) in which many modern and ancients practices was put together, at the path the most significant practices that touches his work with Contact Improvisation are: Somatic Education, Body Studies and Philosophy of Difference, Contemporary dance and research of movement, Contemporary approach about dance, Alexander technique, Craneosacral therapie, Butoh, Jin-Shin-Jyutsu, Kinomichi, Zen Meditation, Mindfullness, Meditation in Motion and Sacred Circular Dances.
"I love dancing and being danced, and I am happy when the observer relief into embodiment, I am grateful for every dance I danced on the way and I am grateful for what will come."