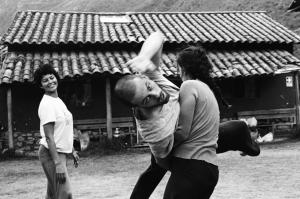 Alessandro Rivellino is the name that I received and I use to be recognized as a person.
My research starts from the Synaesthesia, when the body loses its own identity and is danced by the forces that pass through it. My work is based on a transpersonal approach in which rituals and technologies of the sacred have the power to change the energy strands that cross us, allowing multiple states and powers to manifest through dance. On the way I met Rhea Volij, Alain Alberganti, Tadashi Endo and for three years I practiced whirling dance with the Totum research group.
I have been practicing and teaching contact improvisation for 12 years. I offer workshops of this technique in Brazil, where I was born and in many countries including Argentina, Peru, Uruguay, Ecuador, Israel, Germany, France, Spain and Italy. Recently I was among the teachers of the Freiburg Contact Festival and in June I will teach at the Italy Contact Fest. I am a professor at the Municipal Dance Company of Porto Alegre and I organize courses for actors and dancers, as a teacher of physical theater and as a trainer for artists.
I graduated from UFRGS (Brazil) in dance and theater and I did a Masters in Performing Arts with research in Butoh, Visual Arts and street experimentation. I founded the ColectivoJoker, whose research goes towards the hybridization of languages and gives life to works such as architectural interventions, including "The City of Goma" (2013) which received 7 nominations for the Azorean Dance Award and won the award for artistic excellence and research and "JokerPsique" (2011), which won the Azorean Dance Award in the BestDancer category.
If I had to give a name to the other practices to which I dedicate myself I would call them "practices of wellbeing in an intuitive horizontal form" and include: Somatic Education, Body Studies and Philosophy of Difference, Axys Syllabus, Alexander technique, Butoh, Jin-Shin-Jyutsu , Kinomichi, Meditation in Motion and Sacred Circular Dances.
I love dancing and being danced, I am grateful for every dance I danced on the way and I am grateful for what will come.