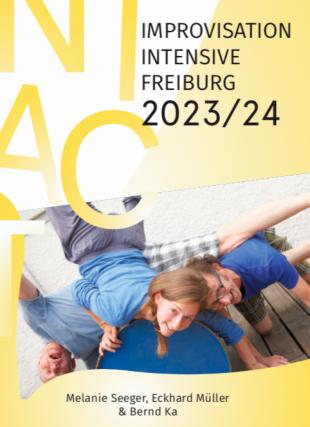 The CI Compact Training Freiburg is happening annually from Feb/March to June in Freiburg with Melanie, Eckhard and Bernd Ka, director of the TIP school Freiburg.
Bernd and Eckhard have created and taught this program for more than 20 years now.
For who is the Compact Training?
In this training we expect at least a one-year prior experience in Contact Improvisation, additional experience in other movement techniques are helpful. We work in a constant group.
This training can provide support for work in other dance or social / therapeutic fields.
training content
- inside and outside perception
- Alignment of our skeleton
- "Center-Periphery" connection
- Gravity, balance and flow
- Lightness and dynamics
- Touch qualities
- Modulation of your own weight
- techniques from "surfing" to "lifts" or "up side down"
You can only sign up for the entire compact training
Former participants can also take individual modules.

Dates 2024
February 24 / 25   
March 16 / 17
April 13 / 14
May 9 - 12            4 full days
May 30 - June 2     4 full days
Usually there are at each appointment 2 teachers (Bernd, Eckhard, Melanie) teaching.

price for the entire program
€ 690,- booking till 14. December 2023
€ 740,- booking till 27. January 2024
€ 790,- booking afterwards
Video trailer: http://vimeo.com/101845669
deutsch:
CI Kompakt Training
Hier erwarten wir mindestens eine einjährige Vorerfahrung in Contact Improvisation, zusätzliche Erfahrung in anderen Bewegungstechniken sind hilfreich. Wir arbeiten in einer konstanten Gruppe.
Diese Fortbildung kann eine Unterstützung für die Arbeit in anderen tänzerischen oder sozial/therapeutischen Arbeitsfeldern darstellen.
Trainingsinhalte
– Innen- und Außenwahrnehmung
– Auf- und Ausrichtung unseres Skeletts
– "Center-Periphery" Verbindung
– Gravitation, Balance und Fluss
– Leichtigkeit & Dynamik
– Berührungsqualitäten
– Modulation des eigenen Gewichts
– Techniken vom "surfing" bis "lifts" oder "up side down"
Man kann sich nur für das gesamte Kompakttraining anmelden
Ehemalige Teilnehmer können auch Einzelmodule belegen.
Termine 2024:
February 24 / 25   
March 16 / 17
April 13 / 14
May 9 - 12            4 full days
May 30 - June 2     4 full days
Bei jedem Termin unterrichten in der Regel 2 Lehrer (Bernd, Eckhard, Melanie)
Preis
€ 690,- bei Buchung bis 16. December 2023
€ 740,- bei Buchung bis 27. Januar 2024
€ 790,- bei Buchung danach
Video-Trailer: http://vimeo.com/101845669