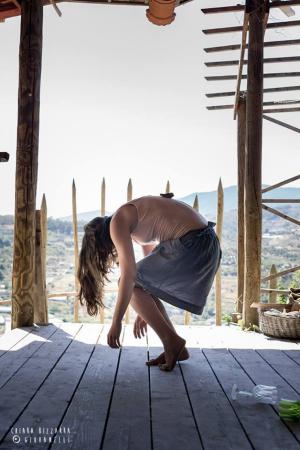 Ricercatrice di movimento e pratiche psicofisiche, studia le coordinate di tempo e spazio tramite multeplici canali creativi. Il focus della sua ricerca e`​ come l'improvvisazione puo' rivelare nuove dimensionalita`​ percettive della realta` e risvegliare nell'essere umano la capacita' di comunicare e interagire con l'ambiente di cui e' parte. Si laurea in Coreografia presso il Dartington College of Arts nel 2006 e nel 2016 ha completato un MA in Pratiche Creative presso Independent Dance e Trinity Laban Conservatoire of Music and Dance di Londra.Vive e lavora tra Italia,Inghilterra e Brasile.
Significant teachers
Caroline Waters, Kirsty Simpson, Keith Hennessy,K.J. Holmes,Jess Curtis, Martin Keogh, Ray Chung, Charlie Morrissey, Eszter Gal, Rosemary Butcher, Meg Stuart, Nita Little, Caryn McHose, Kirsty Alexander,Sarah Shelton Mann, Peter Pleyer.