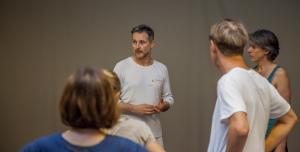 25 years Ago I started practicing CI and teach for about 20 years. 
I am Main Organizer of Linzer Jam, New Year Jam in Lest/Austria, Jam in Red, free Jam and Darkroom.
The email groups of CI Austria and Linz are also Administrated by me.
My main goal is not to bring the newest techniques to you, But to find out how physical contact may influence our self, our feelings, Emotions and how we can handle it and integrate this special kind of state into our everyday-life.
Ich praktiziere seit ungefähr 25 Jahren CI, unterrichte seit fast 20 Jahren. Ich organisiere und leite die Linzer Jam, Silvesterjam in Lest, sowie Jam in Red, free Jam und Darkroom. Außerdem verwalte ich den Ci Österreich E-Mail Verteiler.
Mein  Hauptziel beim Unterrichten ist es nicht, die neueste Technik beizubringen, sondern  herauszufinden, wie  physischer Kontakt unser selbst beeinflusst, unsere Gefühle, unsere Emotionen, und wie wir damit umgehen und diesen besonderen Zustand in unser Alltagsleben integrieren.