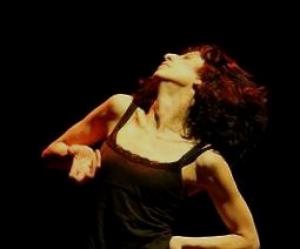 Erica Kaufman is a teacher, dancer, yogini, and somatic researcher sharing contact improvisation dances since 1987.
Erica earliest exposure to dance was as a child in Israel, watching the Batsheva Dance Company's rehearsal of her father Fredrick Kaufman's score for his piece, The Nothing Ballet.  She studied dance during her years in Israel with Gertrud Kraus and at the Rubin Academy and later continued her studies in the United States at the Martha Graham School.  She went on to earn an MFA in Dance and Choreography from Temple University.
Upon graduation Erica joined the Jewish-German Dance Theatre.  The company blended techniques and styles of modern dance and experimental drama to produce an original performance that addressed the difficulties of facing the Holocaust as Jews and Germans. The company toured throughout Germany and the US, and their work is archived at the Lincoln Center's Library of the Performing Arts, in New York.  Later Erica was a member of the Dance Alloy, a modern dance company headed by Mark Taylor based in Pittsburgh, Pennsylvania, touring throughout Europe and the US.  
During her years dancing, choreographing, and teaching, Erica cultivated a philosophy of motion to unite people across borders.  Since 1987 she has taught in the U.S. at the Moab and Brietenbush festivals, at the Israel Contact Festival, in Freiburg, Germany, and most recently devoted over a decade teaching and supporting CI throughout India.  She has held workshops throughout India at the KHA Foundation in Bangalore, the National School of Drama in Delhi, the Goa Contact Festival, and was artist-in residence at the Company Theatre Workspace in Kamshet. In 2020, Erica spearheaded ICITE and collaborated with a small team to facilitate the 1st ever Indian-CITE.
In 2008, Erica and Nancy Stark Smith worked with other leading CI practitioners to create CI36 — a historic gathering held at Juniata College with participants from 27 countries. Together with Nancy Stark Smith and artist and filmmaker Nathan Wagoner, Erica co-produced and co-edited the documentary, Contact Improvisation at 36, that chronicles this remarkable event and the history of CI through 3+ hours of lectures, performances, and interviews.
Erica has been on faculty at Penn State University, the University of Denver, and Juniata College. She is the founder of Lila Yoga.