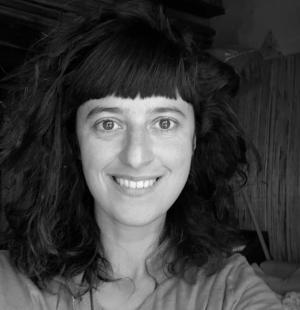 Helene Marcelle (Belgium, 1980) is a researcher/performer in the double field of Sociology and Contemporary Dance. She actually lives in South-East France, in Drôme provençale (Mount Ventoux).
Deeply influenced by post-modern artists such as Trisha Brown, Tatsumi Hijikata, Steve Paxton, she puts social sciences and dance together through the creation of different displays, classes and performances with specific topics.
Her teachings and creations consider the politics of the moving human body as an element of social and individual change.
Helene has created a open air platform for practicing dance, somatic works and martial arts. A place deeply anchored in the local agricultural society of her little village, Mollans-sur-Ouvèze.
TODAY - Teaching contemporary dance and post-modern dance techniques such as Contact Improvisation to adult beginners in the South-East of France - Developping new connections between land art, contemporary dance and research in contemporary music - Working on tactile and geological memories through the VESTIGES project. - Working on SOUEN, a performance in dialogue with the works of the french painter Florence Gosset and the I Ching.
WORKS AND COLLABORATIONS # Performances and explorations with a local collective of contemporary musicians through Les Instants Musicales #Souen. Performer. Work in progress since Winter 2022. # Vestiges. Performer. With drummer and composer Raphaël Seguinier. Work in progress since Spring 2021. # Overijze. Performer. A duet with jazz drummer/film maker Arthur Ancion, Summer 2018. # Anatomie. Performer. A performance by Anne Juren, Brussels, Nov. 2017. # Jubilee. Film maker, editor and interpret. Brussels, 2016. # Müller#3. Performer and director. Performance created for Art et Marges Musée, Brussels, Nov. 2014.