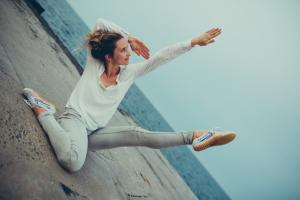 Malaika is a dancer, teacher, and choreographer researching the potential of improvisation to enhance empathy and environmental perception. Since she encountered contact improvisation in 2001, attending to the animal body it activates has been at the heart of her curiosity. Aikido, yoga, functional ballet, and David Zambrano's work of Passing Through and Flying Low also inform her approach.
Malaika trained in contemporary dance at Performing Arts Research and Training Studios (P.A.R.T.S.) in Brussels, Hollins University, the American Dance Festival, and North Carolina School of the Arts before embarking on an overland journey from England to Guangdong China as part of a practice-based PhD into the ecological potential of improvisation practice. Malaika is currently based in the UK, having joined the Department of Performing Arts at the University of Chester in 2018. Prior to this she was Head of Department of Dance Studies at the University of Malta, where she helped establish Contact Improvisation Malta. From 2009-2014 Malaika developed CI activities in Devon & Cornwall UK while teaching on the BA Dance Performance and Choreography courses at Falmouth University and Dartington College of Arts.
Malaika collaborates with martial artist Richard Sarco-Thomas in teaching, and in curating platforms for CI. Together they have organised Contact Festival Dartington, a platform for exchange in practices of contact and improvisation, and helped to realise four associated conferences. These include the 2016 'Thinking Touch' Conference at University of Malta (co-organised with Brandon Shaw), the 2014 'CI for Critical Response' conference at Falmouth University (co-organised with Ruth Pethybridge, Daniel Metcalf, and Ric Allsopp), and the 2013 'Political Ecologies in Contact: Articulating Improvisation Practices' conference, also at Falmouth University (co-organised with Misri Dey and Ric Allsopp).
Malaika enjoys writing and supporting the documentation of contact improvisation exchanges at the teacher meetings of Freiburg Contact Festival and ECITE. Peer-reviewed publications include 'On Contact [and] Improvisation', a special issue of the Journal of Dance and Somatic Practices (2014); Performance and Interdisciplinarity: Contemporary Perspectives (2018) and Thinking Touch: Artistic, Scientific and Philosophical Perspectives on Partnering and Contact Improvisation (forthcoming).
Malaika curates touch + talk, a series of contact improvisation performance dialogues, which have been performed regularly since 2011 at events such as Warsaw Flow Festival, Touch & Play, Contact Meets Contemporary, Ibiza Contact Festival, and Contact Festival Freiburg. In 2018 she was vice-chair for the Dance Studies Association's annual conference 'Contra: Dance & Conflict' in Valletta, where she presented on the panel 'Contact Improvisation and Somatics as Confrontation', a topic which continues to inspire and intrigue her.
Photo credit: Rafal Mielczarek