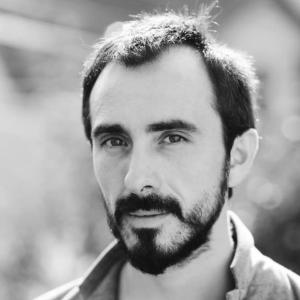 Sasha is multidisciplinary artist, his work interweaves movement, visual and text, with an emphasis on poeticality that reveals contemplative vision, sense of interdependency and underlying presence of the unknown in everyday life. Incorporating dance improvisation, performance, poetry and film.
Together with Dolores Dewhurst-Marks directing and curating ART CONTINUUM NOMADIC RESIDENCY, designed for international artistic exchange, development and production of art; BEING NATURE PROJECT, encouraging connection with deeper self and the natural world, engaging in poetry and dance with nature; TOWARDS center for the education and research of contact improvisation: Reverse Rivers Company, a vehicle for their artistic work. Co-organizers of THAILAND CONTACT & MOVEMENT ARTS FESTIVAL, and THAILAND CONTACT IMPROVISATION CONFERENCE.
Teaching internationally workshops, laboratories, and retreats.
Visited countries: Russia, China, India, Thailand, Vietnam, Turkey, Italy, Spain, Portugal, Germany, Romania, Bulgaria, Ukraine, Moldova, Sweden. Currently based on Koh Phangan, Thailand.
In their teaching work, they are interested to shape spaces for investigation of body intelligence in relation to spatial awareness and the imagination.

http://artcontinuum.space/ 
https://reverserivers.com/
https://towards.contact/