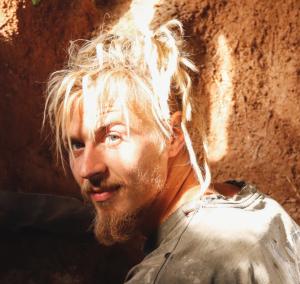 Olek Wojcik is a self-taught traveling performer, student and teacher of many flow arts,
He left school to dedicate time in learning about the world from the experiences on his own skin and develop in poetic movement on the street, he began with the urban environment to construct lines of flow and challenges that enabled his adaptive skills to grow. He worked along a variety of artists to research influence in relation to the public and expand his skills of performance on the base of social interaction and improvisation.

Olek has many years of experience in teaching children, he coached gymnastics at a Northern Irish centre "Twisters gymnastics" and practiced his freestyle of movement recognised as "Freerunning" in the gym. 
After leaving the Gymnastic centre he was employed by the local circus company called "In your space" where he facilitated movement and circus workshops for children of all ages. He began doing different acts as different characters all around Ireland on different occasions of festivals, carnivals and parades.

Coaching has granted him with his technical eye and roots towards teaching his own explosive movement practise, containing many beneficial skills from a range of disciplines like parkour, capoeira, tumbling, slackline, juggling, dancing, contact improvisation, partner-acro and acrobatics.
He keeps travelling to learn, obtain and share knowledge from many different art forms he picks up on his way around the globe.

Olek has always had a huge interest in performance and improvisation, which influenced his course of travels in the last years to many international festivals of dance improvisation and performance, working together with professional choreographers, directors and dancers, since then he has performed and improvised in front of large audiences indoors and outdoors for different events.
In the end of 2017 he volunteered to work with Syrian refugees and children affected by war in Mardin, Turkey through an association of Sirkhane "heryerdesanatdernegi". Teaching many circus skills and social development to inspire children to play all together coming from different cultures, finding their similarities and respecting their differences that are defined strengths to find their ways of expression. 
Olek has also trained and performed alongside of young Syrian bboy dancers and circus artists who have been training, teaching and performing for the association since they have arrived in Turkey in 2014, searching for a professional performance career and possibility to travel around the world to expand their skills through further education which is still their biggest border placed by the powers to be in their development. With the opportunity of his travel Olek has done some research in to the mixed culture, language, religion and views in the Region of Kurdistan mainly made up of Arabic, Iraqi, Syrian and Turkish people.

In September 2015 he left for Europe with his performance partner he met on the road of travel, to experience and educate themselves on the life with no security, being fully self-sustained from performances they did on the streets and traffic lights for cars… 

During the travels he found many new skills in performing with fire contact staff, slack line, contact dance and circus.
As he attended the National circus convention and street performance/ theatre festivals in France in the summer of 2016, he had time to really develop his skills being inspired and trained by professional international artists. He started connecting all his skills together to start working on his own street spectacle to bring through a high level of work to inspire & move his audience. 

He came back to Ireland in July of 2016 to be a part of performances during the summer starting with the Arcadian field festival organising a fire show and being a part of a very unique project created by Kate Wilson working with artists of different abilities to create a piece that was then shown in a local theatre, following by working on the Carnival of colours in Derry, playing different characters and creating a staged partner acrobatic piece. Later on attending a festival of dance and theatre to inspire for future work. Since then Olek has been very active in performing on the streets collaborating with many artists, on his travels he prioritised to visit different artistic schools, participate in different training camps, Circus conventions and dance festivals.