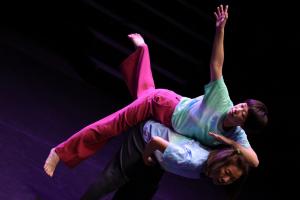 — Mimi LO S.H. — Founder and Artistic Director of " Mimi LO Performing Arts Development Foundation ", a registered charity organization based in Hong Kong. Mimi is a dancer, choreographer, and multimedia director. Actively promoting and organizing Contact Improvisation in Hong Kong, focusing on the inclusive development of CI. She is one of the few artists in Asia who has studied Somatics, DanceAbility®, and ContaKids under the category of Contact Improvisation.
Mimi graduated from The Hong Kong Academy for Performing Arts, majoring in choreography and dance directing. She currently teaches Contact Improvisation in the Dance school at The Hong Kong Academy for Performing Arts. She completed the DanceAbility® International and International ContaKids certification courses in Finland (Helsinki) and Italy (Arezzo), and then furthered her studies in Contact Improvisation with Nancy Stark Smith in the USA. She received guidance from Master Aaron Wan in Somatics for continuous body explorations.
Mimi has been dedicated to performing arts education for over 20 years. In recent years, she led a team that was selected as the "Community Cultural Ambassadors" in Hong Kong from 2020 to promote the inclusive development of Contact Improvisation. In 2021, she was invited to produce a documentary-style dance film, "What If We Say Yes! to Our Body," which portrayed the inclusive development of Contact Improvisation in Hong Kong and premiered simultaneously at HONG KONG and Germany , as the Hong Kong Arts Centre and the Goethe-Institut Hong Kong as part of the "The Body and the City" program. She was also invited as an artist for the Hong Kong Art Festival's "No Limits" in 2019 and 2021. After participating in the International QueerTango Festival Berlin 2023, she will develop the "Open Role Tango" program in Hong Kong.
In the earlier years, Mimi was the first full-time instructor for the "Leap!" program, funded by The Robert H. N. Ho Family Foundation, and received specialized training at Cloud Gate Dance School in Taiwan. She also worked as a choreographer for L Plus H Creations Foundation's " The Awakening " (triple performance), which was recorded as a documentary, "My Voice, My Life."
Over the years, Mimi has participated in various Contact Improvisation events and arts festivals in different countries and regions, including the intensive improvisation workshop by Nancy Stark Smith at EarthDance and Long Dance Research at Dragon's Egg Studio in the USA in 2016 and 2018, Ponderosa Contact Improvement Intensive, Contango Festival Freiburg and International QueerTango Festival Berlin 2023, Contact Festival Kuala Lumpur in 2019 and 2023, Bejing CI Teacher Exchange in 2018, i-dance Taipei in 2015, 2017, 2019, and 2023, International ChoreoLab in Austria in 2016, Contact Festival in Freiburg, Germany in 2015 and 2016, and Petit I-dance Festival in Japan in 2016, Contact Meets Contemporary Festival in Germany in 2014 and 2015.