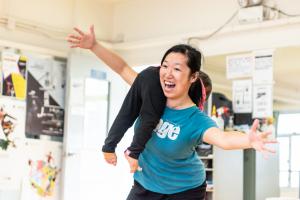 Mimi Lo is the Artistic Director of DanceAbility Hong Kong. She is certified teacher of DanceAbility International and ContaKids International. Graduated from the Hong Kong Academy for Performing Arts, major in choreography and dance directing. Recently, focus on contact improvisation, somatic practice and Argentine tango.
Mimi was participated in the January workshop with Nancy Stark Smith in 2016 & 2018 at EarthDance, U.S., and followed by the Long Dance Research project at Dragon's Egg studio, U.S.. She was also participated in various international contact improvisation festivals: Beijing Contact Improvisation Teacher Exchange 2018, i-dance Taipei 2015 & 2017, International ChoreoLab Austria 2016, Contact Festival Freiburg 2015 & 2016, Petit I-dance Festival Japan 2016, Contact meets Contemporary Festival 2014 & 2015。
She had choreographed pieces "Humming Dialogue" and "Over-Come/ Over.Come", "Solitaire" a dance theatre with ThreeWoods playwright. She was also performed in the "Immigration Lottery" with ThreeWoods Playwright in Edinburgh Fringe Festival 2014, Umbrella Festival Hong Kong 2015 & Adelaide Fringe Festival 2016. She had been touring with Moment Theatre 2018 to Xian, Beijing, Guangzhou and Taiwan.
Mimi started her dance teaching since 1996. She was the Teaching Artist of "Leap!" , the children creative movement program of The Robert H.N.Ho Family Foundation, and received the teacher training in Cloud Gate Dance School in Taiwan. She was the choreographer of the musical "The Awakening" of L Plus H Creations Foundation, the production was filmed as the documentation "My Voice, My Life".